7 reasons why you should consider making 'Oxygen' in Manchester your new home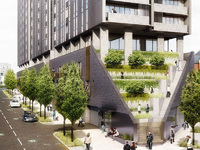 With Manchester slowly transforming into a city filled with posh skyscrapers, glamorous high rise towers and stylish multi-story buildings, there are several options available to choose from when it comes to investing your money. However, if you are having a difficult time settling for a place that you can eventually call home in Manchester, this article has you covered!
'Oxygen' is one of most highly anticipated and upcoming projects in the city, and here are 7 reasons why you should be excited about making this breathtaking piece of architecture your new home.
1. A home for every need – The 31 storey 'Oxygen' tower is said to consist of a total of 345 apartment units. The apartments will be available in 1 and 2 bedroom options hence catering to the needs of every buyer. Looking for something more lavish than an apartment? The tower also has 12 ultra-luxurious family townhouses at the ground level that are bound to appeal to those who appreciate the finer things in life.
2. World class amenities – 'Oxygen' is all set to raise the benchmark when it comes to 5 star living. The project promises to offer world class amenities akin to some of the most luxurious hotels in the world, including the likes of a fully equipped gym, a steam room, a 25 metre long oxygenated swimming pool, a cinema room, valet parking service as well as a rooftop garden to help you relax and soak in the breathtaking skyline and views of Manchester. The tower will also have a 24 hour concierge and an underground parking for residents.
3. Location – Living in 'Oxygen' means you're just a heartbeat away from Manchester's emerging Piccadilly Basin district. The bustling bohemian Northern quarter and regenerated Piccadilly hub is also only a short walk away and with the Piccadilly Station at a 2 minute distance, 'Oxygen' is easily accessible from all over the city.
4. Developer – A painting can only be as good as the artist, and so is the case with 'Oxygen'. The project is the brainchild of Property Alliance Group, one of Manchester's premier developers. Property Alliance Group is a name synonymous with marvelous architecture, and the firm is already responsible for some iconic buildings across Manchester, with 'Oxygen' promising to be another feather in their cap.
5. It's not much longer till completion – With many upcoming projects often promising a final handover after several months or even years in certain cases, the wait can be extremely tedious leading to your capital being on hold. With steady and consistent development plans, 'Oxygen' is on course estimated to be completed by the first quarter of 2019, and considering Property Alliance Group's excellent track record, you can expect them to deliver on their promise.
6. A roof with a view – Creating a new benchmark in urban living, 'Oxygen' has incorporated a spectacular sky garden and communal pavilion on the building's roof which is all set to offer unparalleled views of Manchester and the city's skyline.
7. A sound investment – Buying an apartment in 'Oxygen' towers not only means buying your dream home, but it can also serve as an excellent investment opportunity with 15% growth anticipated before completion and an estimated 6 % rental yields for those looking to rent the property.
Whether you're looking to buy your new dream home or to purchase for investment, Alliance have you covered.
Property Alliance Group is a 27 year established UK property developer and investor with offices in Manchester and London.
The group markets and sells its projects through its global sales division, Alliance Investments. For more details on 'Oxygen' towers and other upcoming projects and developments, visit alliance-investments.com/developments