Over a third of Brits make lifelong friends with people they've met on holiday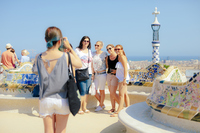 Brits will be returning from their annual summer holidays with more than a tan and happy memories, as a new study reveals over a third form lifelong friendships with fellow holidaymakers.
Research found 36 percent of all Brits remain in contact with friends they met when on holiday, with nearly a quarter arranging to meet up after their trip.
According to the study by leading online travel agent Travel Republic, 23 percent of Brits admit they are more likely to make friends with people they didn't know when on a beach holiday than at home.
Research also revealed feeling at ease was the main reason people are more open to making friends when on holiday with over half of holidaymakers revealing they feel relaxed when on holiday. Having the time to have a long talk with someone and having no distractions were other factors for British holidaymakers.
Naomi Wilkinson, Marketing Director for Travel Republic, says, "We are very happy our results showed that Brits enjoy making friends when on holiday, as it shows that as a nation our holidays don't just create life-long memories but also life-long friends."
And these friendships are deeper than just sending a Christmas card or messaging occasionally on social media, as holidaymaker, Robyn Howard-Sinclair reveals she has asked her holiday friend of over 17 years to be godmother to her daughter. Robyn said, "They are more than friends, they are an extension to my family. If I had never met them, I would have missed out on many incredible memories that have shaped who I am today."
The survey also revealed young (16-29) men from Sheffield, were most likely to make lifelong friendships whilst on holiday; with over half of people from Sheffield keeping in touch with friends made on holiday. In comparison to older (45-59) women from Bristol, as results reveal just 27 percent remain in contact with holiday friends.
Sheffield-born holidaymaker, Paul Benjamin travelled to Greece in July with his girlfriend and is already planning their next holiday with their new holiday friends. Paul said, "I switch off when I'm on holiday, I don't have the same stress or worries I do when at home, so I have the time to speak with new people. We met our holiday friends on our first night in Santorini and ended up spending the rest of the time with them, as we just clicked."
Travel Republic has a great variety of last minute summer deals to popular beach destinations, to help blossom new lifelong friendships. As an example, a couple can travel from Glasgow to Crete for one week in September, and stay at 4* Galaxy Villas, Crete on a B&B basis from as little as £319pp.