Retirees urged not to leave it too late to move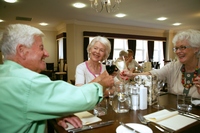 As people live longer their housing needs change, but by moving when they want to – rather than waiting until they need to – they could retain their independence in later life.
A report in the Lancet suggests that as more over 65s live longer the increased demand for care will require an extra 71,000 care home spaces by 2025.
But retirement living specialists Aspen Retirement, the company behind Eastbank Court in Worcester, say moving to something more suitable now, while still reasonably fit and healthy, could delay or even prevent the need for a care home bed at a later date.
Aspen's Glenys Bastin explains: "It's the care bed shortage element of the study that's grabbed headlines, but closer inspection of the report shows that there is an alternative – and it's one that we've been advocating for many years."
Many older people can continue to live independently in their own home if the accommodation is more suited to their needs – and others only need occasional support, not every day care. Somewhere like Eastbank Court could be perfect.
Glenys continued: "The research in the Lancet makes for interesting reading, reporting that men in particular are spending more years after 65 independently. It also found that there's been an increase in people who require care less than daily and suggests that early intervention when people need this low level support could mean fewer years needing increased care.
"This echoes our own experience, that people who plan ahead and move to a purpose-built, well-appointed apartment somewhere like Eastbank Court, are able to retain their independence longer. They've got access to the help and support of friendly staff, a host of services in-situ and, in some cases, it may even mean that they don't have to move into a costly care home at a later stage."
At Eastbank Court homeowners live in their own apartments but are able to access a raft of hotel-style facilities including a hair salon and licenced restaurant. There is also the security of having staff on hand around the clock, 90 minutes of regular domestic help every week and the option to add extra care when or if it's needed.
Current prices at Eastbank Court start from £187,950 for a one-bedroom apartment.
The Aspen Assist shared equity scheme could see that priced reduced to £150,360.
It gives people aged 70 and over the option to pay just 80% of the purchase price, with Aspen retaining the remaining 20% equity until the property is resold at a later date.
The final phase of six apartments, each with two bedrooms, is soon to launch.
For a limited time and on selected apartments only, Aspen is offering to waive the service charge for the first year, covering the cost of buildings insurance, looking after the landscaped gardens, ground rent, a reserve fund for the long-term maintenance of the development, staffing, cleaning the communal areas, window cleaning, security and the 90 minutes per week domestic help.
Located on Eastbank Drive, Northwick, Eastbank Court is ideally placed in a quiet residential area. There's a post office, Co-op shop and chemist just 250 yards away, as well as the bus stop for journeys into the city centre. There are even motorised scooters available for homeowners to hire.
For more information, visit aspenretirement.co.uk/developments/eastbank-court.