The upcoming Tableau features we're all excited for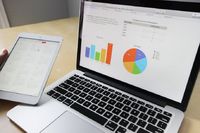 The Tableau software provided by the company itself called Tableau can prove amazingly useful for a wide array of businesses. Put simply, the software enables companies to translate reams of potentially bewildering data into a more visual and easy-to-digest form.
Hacker Noon details more specific ways in which this can assist businesses, including by making data quicker to prepare, easier to share, and - thanks to digital storytelling - more effective to impart. However, the software has been through many iterations and revisions since the Tableau company was founded in 2003.
The company hasn't relented in its drive to further improve the software; in fact, Tableau will soon release Tableau 10.4. This is currently possible to download in beta form - but what can businesses waiting for the final release eagerly anticipate? Here are some of the most exciting features currently set for inclusion with Tableau 10.4.
More easily select from a large pool of data
In a blog post on Tableau's website in June, the company's Marketing Content and Editorial Manager Piper Stull-Lane detailed various enhancements that have been in the works for Tableau 10.4.
One of the most powerful merits of Tableau software is how it can bring a company's data to life without drawing attention away from what makes that data unique to the company itself. This aspect of the software will soon be strengthened with the introduction of data source certifications.
This is where a company's own data experts can, with particular data sources uploaded to Tableau Online and Tableau Server, approve them for use more broadly. Through this, the benefits of data and those of the employees' own expertise can be effectively combined. An analysis can be trusted due to the up-to-date data underpinning it.
Tableau 10.4 will also have recommendations for data sources. These recommendations will be generated by machine learning to help each user discern already prepared data that is suitable for their analysis.
Improved compatibility between Desktop and Server
Has your business been in situations where its versions of Tableau Desktop and Tableau Server are so different that the two can't always talk seamlessly to each other? It will be easier to leave this problem in the past once your firm has downloaded Tableau 10.4.
Workbooks will be possible to downgrade and publish through that software even when it is connected to Tableau Server instances as old as 10.2. Hence, there will be access to your data and visualisations through Tableau Server even when your business has not yet upgraded it.
Another reason not to be concerned about an overt disparity between your company's Tableau Desktop and Tableau Server versions is that they can still easily be used to train employees in how to use Tableau software.
A variety of Tableau training options is included in the services of Cloudstream Partners, which can assist your staff no matter what stage of their Tableau journey they have reached. The company can take into account your firm's needs and data as it customises Tableau training sessions that are available.