DM Design win big at the Home Improvement Awards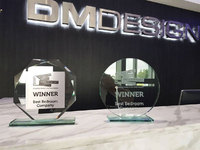 DM Design took the award for Best Bedroom Company for the second time in two consecutive years at the Home Improvement Awards 2017.
Known for their hard work in the industry and their charitable duties, the Scottish company has showrooms in Cumbernauld, Aberdeen, Livingston, East Kilbride Shopping Centre, and Dobbies Breahead, delivering exceptional design and great service to a large proportion of the Scottish population.
Opened by Donald Macleod in 1984, DM Design's collection of bespoke bathrooms, kitchens, and bathrooms currently includes over 100,000 designs – a great achievement for any company.
When the Home Improvement Awards announced that they would make a return for 2017, they received over 1,000 entrants from all over Scotland. Each company was competing to be nominated in specific categories, so the competition was high. Customers voted for the companies that would be finally shortlisted, and DM Design were proud to make the cut.
All of the finalists for the awards arrived at the Marriott Hotel for an evening of glitz and glamour.
"DM Design is delighted to be awarded the Best Bedroom Company award for the second year running at the Home Improvement Awards 2017." Donald Macleod commented.
"Our team are constantly looking at ways to innovate and move forward into the future of bedroom design. By staying ahead of our competition, and making sure our customers always come first, this is what makes awards like this possible. I'd like to thank all of the hard working staff at DM Design, the Home Improvement Awards, the sponsors, and most importantly of all – our customers! I'm already looking forward to next year's awards ceremony."