Home advantage for families in Prestwich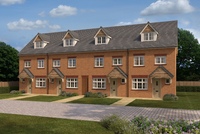 Families who fear being forced out of Prestwich by rising house prices are being given a helping hand by Redrow.
The homebuilder has got a number of properties at its Woodland View development for sale under its unique Advantage scheme, which means they can be bought for just 75% of the market value providing people fulfil a strict criteria.
"We are very much aware of how hard it can be to get on to the property ladder, so it's important that our developments offer different ways to help people achieve home ownership," explains Claire Jarvis, sales director for Redrow Homes (Lancashire).
"And it's why our developments like Woodland View include a range of affordable homes designed to help local people stay in the area, thereby strengthening the community. Communities can be created anywhere, but they are considerably enhanced by people who have lived in the area for many years and whose families have lived here too. They are invested in a place and interested in making it a better place – for everyone."
Redrow is offering a range of 24 homes for sale under the Advantage umbrella at Woodland View, off Pinfold Drive. Ten of them will be four-bedroom Kenilworth family-sized homes, of which four are available now.
"It is important that we don't just make our Advantage homes available for younger first-time buyers," adds Claire, "It's vital to provide for the family market too, whether that's to accommodate growing numbers of children or, simply, children who are growing up and need that private space and independence.
"In an area like Prestwich, which is very much on the up following a massive town centre regeneration scheme, it becomes even more difficult as demand forces prices up even further and people can be left with no alternative but to move away to be able to afford a home of their own."
The four Kenilworth homes currently available are offered at the discounted price of £213,750 – a massive saving of £71,250 – for those who fit the specified criteria set by Bury Council within whose authority the homes are being built: that means families who need the extra space with a joint income of circa £60,000 (in order to confirm eligibility, the council will multiply gross annual income by four for single applicants or by 3.5 for joint applications).
Further qualifying factors include it being the family's main residence and being able to show a need for the size of home being applied for (ie. a single person or couple will only be able to apply for a two-bedroom property). Certain considerations can be waived if a property has been completed and there is no interest from other qualifying families, but buyers do have to be on the council's affordable housing waiting list to access the homes and they must have lived in the area for at least six months.
"Unlike other incentives like Help to Buy, the 25% discount does not have to be paid back at a later day. All we ask if that people who use Advantage pass the discount on to similar qualifying people when they come to sell," Claire says.
Woodland View features a range of two, three and four-bedroom homes from Redrow's Arts & Crafts-inspired Heritage Collection, which combines traditional craftsmanship exteriors based on the popular era with bright, spacious interiors.
The three-storey Kenilworth townhouse is an integral part of that collection with plenty of period-style features outside and a modern, well-appointed interior within. Its accommodation includes an open plan kitchen and dining area, lounge, cloakroom and laundry room on the ground floor; three bedrooms and a family bathroom on the first floor; and a sumptuous master bedroom with en-suite spanning the entire top floor.
Other properties due to be offered under the Advantage umbrella at a later date include a pair of four-bedroom detached Stratfords, four Broadway three-bedroom terraces and eight two-bedroom apartments, ensuring plenty of variety for local buyers.
Other three and four-bedroom detached open market properties are coming soon.
Woodland View is close to a Tesco superstore and residents can take advantage of the independent shops, bars and restaurants of Prestwich village centre
Less than four miles from Manchester, the development is situated just off junction 17 of the M60, so close to the extensive motorway network. It is also on the doorstep of Phillips Park, with its extensive woodland and open spaces, which makes it ideal for families and professionals who want to commute to work but get that work/life balance for a better quality of life.
Prestwich is part of the Manchester Metrolink Tram system, with regular trams every few minutes during the rush hour, connecting to Manchester in around 17 minutes and Bury in 19.
To find out more about the Advantage Scheme and qualification, and about Woodland View itself, visit the show home and sales centre, open Thursday to Monday between 10am and 5.30pm; or go to redrow.co.uk/woodlandview.