Two landmark Chorley developments coming to an end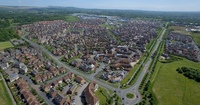 With only a dozen properties left to sell at West Point, Redrow Homes is approaching the 'end of an era' at Buckshaw Village, near Chorley, while only three new homes remain a few miles away in Whittle-le-Woods.
Interestingly, these two developments are linked by wartime history as well as by location and by Redrow.
Buckshaw Village has totally transformed the site of the former Royal Ordnance Factory (ROF Chorley), while the public open space area of Lucas Green contains a Grade II listed pillbox and light anti-aircraft gun emplacement that's been restored and preserved by Redrow. It was originally built to defend ROF Chorley against enemy attack during World War Two, both from the ground and from the air.
Today these two locations are sought-after residential areas, with buyers vying to secure the final homes.
Redrow was one of two lead developers whose vision helped shaped Buckshaw Village almost two decades ago.
Redrow launched its first homes for sale here in 2003 and since then has been responsible for 1,270 of the circa 3,000 homes that make up this thriving community today.
West Point, a development of just 21 properties, is the final piece of the puzzle and, with nearly half of them sold, would-be customers have just 12 more chances to own a Redrow home at Buckshaw Village.
There are a mix of two, three and four-bedroom properties with current prices from only £154,995 to £224,995. They're conveniently close to some of Buckshaw Village's key amenities including the Tesco superstore and new railway station.
It's features like these, as well as schools, bars, restaurants, shops, a doctors' surgery, community centre and a business park supporting 10,000 jobs, that have made redevelopment of the former Royal Ordnance Factory such a resounding success.
And it's a success that prompted Chorley MP and Deputy Speaker of the House of Commons, Lindsay Hoyle, to say recently: "It proves what you can do with a big piece of land, the right vision and the right investment, to deliver a long-term future.
"Everything was brought together on this one site. This is a real village where people can live and work."
During its lifespan, Buckshaw Village has featured a wide variety of homes from Redrow's portfolio to suit every kind of buyer, including Arts & Crafts inspired family homes, bespoke apartments and contemporary first time buyer properties.
These final homes at West Point are based on Redrow's Regent Collection, with Georgian influenced exteriors and contemporary interiors. The remaining properties can all be ready to move into before Christmas.
Meanwhile, those seeking a larger home and the Arts & Crafts inspired architecture of Redrow's popular Heritage Collection, may find the answer at Lucas Green in nearby Whittle-le-Woods.
There too, only a small number of properties remain for sale due to the development's outstanding success. In fact, there's just a trio of detached homes to bring Lucas Green to a close; a decidedly spacious three-bedroom Worcester at £319,995 and four-bedroom Oxford and Sunningdale styles, at £324,995 and £409,995 respectively. Those who reserve now can move into their new home next spring.
To find out more about Lucas Green, visit redrow.co.uk/lucas; for information on the final West Point homes, visit redrow.co.uk/westpoint. Sales offices at both locations are open Thursday to Monday inclusive from 10am to 5.30pm, with a fully furnished Finsbury show home available to view at West Point.