Now more can take 'Advantage' of Redrow's lovely Lancashire homes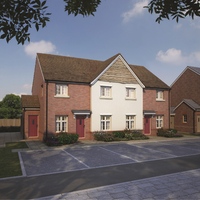 Redrow has extended its popular Advantage scheme so even more people have the chance to live in one of its Wrea Green homes for less.
The incentive, which gives certain buyers the chance to own a new home at the housebuilder's Ricksby Grange development for 75% of market value, was previously only available to a limited number of house hunters in the Wrea Green area, near Lytham.

However, with agreement from the council, it has now been opened up to all Fylde borough residents looking to buy, subject to qualifying criteria.
"The Advantage incentive is a superb system which offers exceptional value for a number of people buying brand new homes," says Lesley Myers, sales manager for Redrow Homes (Lancashire).
"Qualifying buyers get the opportunity to invest in a fabulous home for, in this case, 75% of the market value. It means people who might never have dreamed of getting a quality home in such a stunning location, who perhaps have more modest incomes, will now have every chance.
"Initially the scheme was available to those who lived or worked in the parish of Ribby or who had been offered work there, but now it has been widened to the whole of the Fylde area, so more potential buyers might be able to take advantage of the great value this scheme affords."
Redrow has a number of homes available for sale under the Advantage umbrella at Ricksby Grange: a two-bedroom Alton 2 apartment with a market value of £120,000 can be obtained for only £90,000 using the 25% discount, and a two-bedroom Tavy house is available from just £129,750 instead of £173,000.
Unlike other incentives, like Help to Buy, the discount doesn't have to be paid back later – just passed on to a future buyer when the house is sold on.
"These homes must remain affordable," adds Lesley, "and the Advantage discount is attached to the selected homes 'in perpetuity', so if the owner decides to sell and move, they must pass on the discount they obtained to the next buyer who must fulfil the required criteria too."
Buyers must be able to show that they are first-time buyers or do not currently have their own home and demonstrate the need for the type of property they wish to purchase.
And Lesley adds: "While the homes are offered for sale at a huge discount, what isn't reduced is the standard which Redrow guarantees for all its homes."
Like other houses at Ricksby Grange the Tavy, for instance, hails from the Heritage Collection, combining Arts & Crafts exteriors with light and modern interiors. It boasts a spacious lounge and dining area, separate kitchen and cloakroom on the ground floor and, upstairs, there are two good sized bedrooms and a family bathroom.
Similarly, it benefits from being built in one of Lancashire's prettiest villages which has been many times declared 'Best Kept Village', while nearby Lytham has taken its place on The Sunday Times' 'Best Place to Live' list.
For more information on the Advantage homes and other properties at Ricksby Grange, go to redrow.co.uk/Ricksby. The sales centre is open Thursday to Monday inclusive, between 11am to 5pm.