Free financial advice for first time buyers in Evesham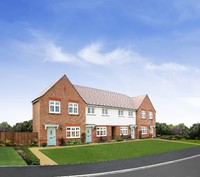 'Generation rent' could become generation buy with a visit to Maple Gardens in Evesham this Saturday (September 16).
A selection of two and three-bedroom properties has just been released for sale at the popular development.
They make great starter homes and with high employment, low interest rates and the availability of Help to Buy equity loans contributing to an increase in first time buyers, Redrow is hosting a special event to guide would-be homeowners through the purchase process.
Throughout the day new homes mortgage specialists will be on hand to assess aspiring homeowners' finances, while the friendly, experienced sales team will be able to help match buyers with properties.
Pauline Turnbull, sales director for Redrow Homes (Midlands), said: "So many young people turn to renting because they think they can't afford to buy or resign themselves to living with their parents longer than they'd like while they save for a deposit. The reality is that if they discuss their finances with an independent mortgage specialist they could be pleasantly surprised to learn that they can afford to buy.
"First time buyers are invited to join us at Maple Gardens this Saturday when we'll have expert advice on hand to assess their finances and their options, guiding them through the buying process to make it as simple and straight forward as possible."
Current prices at Maple Gardens start from £234,995. By taking out a Help to Buy equity loan for up to 20% of the value of the property customers can potentially reduce the size of the deposit and mortgage required to purchase a brand new home.
"Help to Buy is exclusive to new build homes and could make a significant difference to customers' ability to buy," Pauline explained. "The equity loan is interest free for five years and, coupled with the lower deposit and mortgage, could mean that they're in a position to purchase sooner than they expected or perhaps are able to buy a home they can grow into rather than out of."
Situated on Offenham Road, the homes at Maple Gardens enjoy a green setting close to the countryside and within easy reach of Evesham town centre. There are good schools nearby, making this an ideal location to raise a family.
Located on the border of the Cotswolds, the homes are within a 30-minute journey of Broadway, with Cheltenham around 45 minutes away.
The first time buyer event at Maple Gardens takes place this Saturday (September 16). For more information about the homes available, see redrow.co.uk/maplegardens.