Enjoy Ale and Art at Henleaze Festival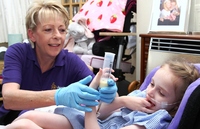 The 'Ale and Arty' Festival is returning to Henleaze on Saturday 30 September raising money for two local charities as well as for work in Bristol and Africa.
Organised by St Peter's Church, the second annual festival will feature family activities, a BBQ, live music and craft ale, cider and prosecco bars.
Taking place from 12pm the daytime line-up includes a Zumba session, dance show, family art activities and 'We are Bristol' art and designer stalls. A highlight of the day will be the chance to help create a large wall hanging to decorate the church hall. Visitors will also enjoy t-shirt decorating, face painting and body art.
Evening entertainment starts from 7pm with Melody Makers Choir, James Harper's Funk Band and Watermelon Jam Jazz Band all performing.
Mark Pilgrim, the Vicar of St Peter's Church, said: "The purpose of the event is to provide an enriching, refreshing and fun experience for people in Henleaze and the surrounding community and we're hoping to build on the positive feedback from last year's festival.
"The event will feature various local artists and activities and performances, along with a range of beers for people to try and curry or BBQ in the evening.
"We hope to provide a positive experience of St Peter's Church as a place of community, raising money for our nominated charities as we do so."
The event will raise money for The Flamingo Chicks, which gives children with disabilities and illnesses the opportunity to enjoy ballet alongside friends, for Jessie May which provides hospice care at home for terminally ill children in Bristol and surrounding areas and for St Peter's Outreach charities (working in Bristol, Tanzania and Uganda).
Julian Withers, head of fundraising at Jessie May, said: "We are delighted that St Peter's Church has chosen Jessie May, along with Flamingo Chicks, as local beneficiaries of this year's Ale and Arty Festival.
"The concept is fantastic and I'm sure loads of local families will have a very enjoyable day out at the event. The organisers have put fantastic effort into planning the line-up and refreshments.
"The funds donated to Jessie May will go towards caring for the 125 terminally ill children we currently look after in the South West and a further 47 bereaved families.
"It costs around £1,400,000 to provide our care yearly, so community support like this is greatly appreciated."
The Ale and Arty Charity Festival is taking place on Saturday 30 September at St Peter's Church, The Drive, Henleaze.