New show homes unveiled in Brinnington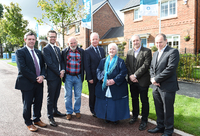 A stylish new show village has been unveiled at Countryside's highly anticipated Blackberry Vale development in Brinnington, where 10% of the properties have already been snapped up by local buyers.

Cllr Sheila Bailey, Stockport Council's Cabinet Member for Communities and Housing, alongside local ward councillors, praised the official launch of the first private housing development in the area, with a ceremonial event at the Blackberry Lane site.

The development which is being built by Countryside in partnership with Stockport Council, features a collection of high quality and affordable three bedroom homes that are designed for modern family living.

Cllr Sheila Bailey commented: "Countryside took a leap of faith with this entirely new idea for Brinnington and I applaud their commitment to bringing forward a quality development that will enhance an already great community and place to live. Despite the challenges, local councillors and officers have remained focussed and persistent on delivering Brinnington's master plan and subsequent regeneration. Countryside's success story of providing homes for local people and attracting first time buyers from across the borough will hopefully pave the way for future development in Brinnington."

Philip Whitehead, Regional Regeneration Director for Countryside, added: "Blackberry Vale would not have been possible without the collaboration and close working relationship with local councillors, officers and the community, it truly epitomises public private sector partnerships at its best.

"We have seen unprecedented success on this site and have sold just over 50% of the development of which 70% have been sold to first time buyers, and we have buyers waiting for the next release of homes. This is largely due to the exceptional specification, the quality of the build and value for money not offered anywhere else in the vicinity."

All of the 98 homes under construction will be available as freehold on the open market, from just £159,950, with the option to use the Government's 5% deposit Help to Buy scheme.

Situated just four miles from Stockport and less than six miles from Manchester, the new Blackberry Vale development benefits from excellent transport links and easy access to a range of local amenities.

Each of the new homes is being developed to a high quality specification to offer local families the unique opportunity to be part of the area's impressive transformation at an affordable price.

For more information about the new homes at Blackberry Vale visit balckberryvale.co.uk, or visit the show village on Blackberry Lane, Brinnington, Stockport, SK5 8LA.