What custom supercar could you build with $1 million dollars?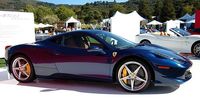 Unsurprisingly, one of the most common purchases a lottery winner makes after scooping a jackpot, after a new home, is a brand-new car. These aren't your run-of-the-mill hatchbacks either; these are supercars that are guaranteed head-turners, designed to provide thrills and spills around every corner.
Take Tom Naylor for instance, who won the lottery in the UK, scooping more than $20m in the process. Tom made a conscious decision to purchase a different car for each day of the week, ranging from Rolls-Royce Phantoms to Jaguars and Aston Martin DB9s. These supercars are ready-made to hit the road, but if you really wanted to make a statement and blow $1 million bucks on a sweet new ride to celebrate your Lotto win, here's how we would recommend you do it in style.
If you have a bottomless pit of money and you're happy to spend upwards of seven figures on a brand-new supercar, it's now possible to customize your own version of Ferrari's 458 Italia. You get to choose virtually every aspect of the car to your liking. From the external colours and livery options – with the chance to select from solid, metallic and historical Ferrari colour pallets – to the wheel rims, carbon fibre front wings and rear mouldings. The sport exhaust system adds a fantastic roar and for the practical lottery winner, it's possible to add features such as front and rear parking sensors, parking cameras and anti-stone chipping.
The interior can be selected in block or dual leather, as well as two-tone leather, and the interior details go right down to the carpets and stitching. The base models are worth $245,690 from new, so you can be sure that you won't get much loose change once you have customized to your heart's content. In the UK there is a 458 Specialise Aperta version on the market in Lancashire, UK that's only been driven for 57 miles and is worth $800,000.
Warren Mosler, the American economist, hedge fund investor and inventor was the brains behind the Mosler Automotive brand of supercars. He developed some of the beefiest supercars on the planet, with the 2012 Mosler Raptor GTR tweaked to provide 838BHP at a 0-100kph speed of just 2.6 seconds. It's therefore little surprise that one of these will set you back over three-quarters-of-a-million bucks ($770,000) due largely to the fact that Mosler sold his Automotive company back in 2013, making the 2012 models some of the last produced.
If you decide that it would be easier to purchase a ready-made factory-built supercar and you have a $1m check just waiting to be written out, you could still buy outright the following models:
- The Rimac electric supercar – a Croatian-produced supercar costing $1m with only 88 produced. It features equivalent BHP of 1,088 and an impressive range of 373 miles.
- The LaFerrari supercar convertible – featuring an 8.0 liter V12 engine with 0-100kph in less than three seconds.
- Lamborghini Aventador and Midnight Express powerboat deal – It was possible to spend a combined $1m on a Lamborghini Aventador Roadster and a luxury speedboat which was customized to match the luxury interiors of the Aventador, with a matte finish and diamond-stitched interiors!
Lotto winners are a pretty excited bunch when it comes to spending their winnings. There's still no better way of displaying your deep pockets than driving around in a stunning supercar – or speedboat! What a way to cruise around the south of France on your holidays…