LuggageHero, the Airbnb for your luggage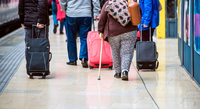 If you've ever had to lug your bags around London on the tube then you definitely need to try LuggageHero.com, it's the Airbnb equivalent for your bags.
Launched in London earlier this year and also available in Copenhagen and New York, LuggageHero is any traveller's dream as it provides a choice of local luggage storage options to make storing your bags as safe and simple as possible.
LuggageHero offers a low cost alternative to traditional storage lockers, costing just €1/£1 an hour (€2/£2 start-up fee, with a max €10/£10 per day), with security tags and insurance ensuring your luggage is safe. You can book for a set number of hours, but will only pay for the hours you actually use, so if you're early you can save some pennies but you also don't need to panic / rush back.
LuggageHero is already available across London and is constantly expanding to offer you even more options. It's not just stations that offer the service though, retailers, bars, restaurants and hotels are also widely involved across each location.
LuggageHero also solves an awkward issue for Airbnb hosts, who are often asked about luggage storage by their guests, by offering a simple way for this to be booked and paid for as an additional service.
Speaking of his inspiration behind LuggageHero, Jannik Lawaetz said: "Being a frequent traveller who uses Airbnb I was often left with little choice but to lug my bags around with me all day when a check out time was well ahead of a flight, or just because of the location of my accommodation. Making it easy to book before you travel gives you peace of mind and means you don't have to waste time finding somewhere to store your luggage when you just want to explore."
"We know the service is popular as every new LuggageHero that signs up receives bookings within 24 hours. We want to continue to expand into more locations giving people even more options as the recent launch in New York has been well received."
The startup has already achieved over £300,000 in funding through angel investment and is growing rapidly. LuggageHero has stored over 10,000 pieces of luggage in the last year and has recorded impressive growth of 30 per cent each month.
For more information and to try out the service visit LuggageHero.com.