'Last chance' to buy at Devonshire Gardens, Harrogate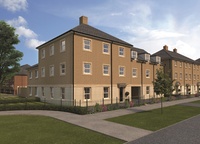 Home buyers wishing to take root in Redrow's Devonshire Gardens, Harrogate, can still have their pick from a choice of homes.
There are only six houses and six apartments available to purchase before Redrow Homes takes a short break at the popular Claro Road development.
Patsy Aicken, sales director for Redrow Homes (Yorkshire), says: "We do have a future phase planned but that won't be starting for some time so, for now, this is the last chance for people to make Devonshire Gardens their home."
Although there are only 12 homes left to purchase, the selection is varied with one and two-bedroom apartments and four and five-bedroom houses to choose from.
"That's good news because it means we can meet the needs of a range of potential buyers, all with very different needs," Patsy explains. "But, of course, it also means competition to own one of the final properties could be fierce, so those wanting to enjoy the quality of our homes and the lovely location should make a move as soon as they can."
The homes themselves certainly make it a tempting prospect. The four-bedroom Cleveland townhouse and it's 'big sister', the five-bedroom Cleveland Grand, are classical looking townhouses with a modern twist. Priced at £334,950 and £364,950 respectively they are ideal properties for today's modern family, with fully fitted kitchen, contemporary appliances, en-suite to master bedroom and ground floor cloakroom among their many attributes.
Redrow is even prepared to pay the stamp duty for the customers who purchase one of these last six houses; and on the Cleveland Grand that could be a massive saving of over £8,000.
The Faversham apartments are priced from only £162,950 for a one-bedroom property and from £224,950 for the larger two-bedroom version. Since launching, they've proved perfect for first time buyers and downsizers who want the luxury and manageability of something smaller, as well as investors.
With properties up to £300,000 now exempt from stamp duty for first time buyers there'll be no tax to pay for them; but Redrow may be able to help those who would still incur the tax – especially downsizers who are moving to free up capital and don't want to immediately relinquish some of it to the treasury!
Just as the homes suit all, so too does the location.
Devonshire Gardens is close to the grassy parkland of The Stray and within walking distance of the town with its mix of shops, restaurants, museums and galleries. It's also convenient for road and rail links to Skipton, Leeds and York.
"That makes our homes a wise choice for the financially savvy as well as commuters or those looking for a bolthole in a pretty and popular part of the world," Patsy adds.
To find out more about the final homes in the current phase, visit Devonshire Gardens' sales centre. Check the website for opening times - redrow.co.uk/devonshire.