Two's company, three's a bake-off! Churchfields show homes rise to the occasion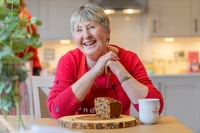 A trio of former Bake-Off contestants helped cook up a storm in Redrow's latest show home kitchen at Churchfields, in Green Hammerton, North Yorkshire.
Yorkshire born Val Stones and her fellow contestant Louise Williams put Redrow's Bramham show home's kitchen through its paces as they whipped up delicious crepes and other beautiful bakes.
And there was a surprise in store for guests when another Bake-off contestant, the Bolton-based pastry making pastor Reverend Lee Banfield, turned up and threw on his apron. But it definitely wasn't a case of too many cooks spoiling the cakes!
"We had an amazing day," said Redrow Homes (Yorkshire) sales director Patsy Aicken. "Having two fantastic bakers in the kitchen was exciting enough, but when Lee turned up unexpectedly to lend a hand we were in baking heaven.
"Val and Louise were superb throughout the day. Not only was their food delicious but they were really complimentary about the quality of our houses and show homes. At one point they were showing visitors around – they'd make great sales consultants if they ever get bored with baking!"
With both Shrove Tuesday and Valentine's Day approaching, Redrow customers, villagers and other guests enjoyed a tempting array of treats, including sweet and savoury crepes, heart shaped focaccia with dips and Valentines chocolate and rose cupcakes.
Retired head teacher Val, who was born in Mexborough, South Yorkshire and taught in Driffield, Sheffield and Richmond before relocating to Somerset, said: "It's always a delight to cook in a Redrow kitchen with all the lovely built-in appliances, plenty of practical space but also room for entertaining. And, for me, being back in my Yorkshire homeland was the icing on the cake."
Val and Louise - like Lee - were contestants in the seventh series of Great British Bake Off, which aired in 2016, and Val also appeared in the 2017 Christmas special.
Val won the hearts of GBBO viewers with her bake-aerobics, optimistic outlook and stories about her family. Making it through to pastry week, Val got top marks from the judges for her classic bakes and came out on top in the tricky Dampfnudel technical challenge.
Louise impressed the judges with her flavours, but famously left Bake Off after her dream wedding gingerbread scene collapsed in the final moments of the showstopper challenge. Despite the disaster, her never-ending positivity made her popular with fans of the show.
They've remained firm friends ever since and regularly meet to share recipes and bake together. Last year they joined forces to make a series of films for Redrow, demonstrating how the homebuilder's kitchens are as practical as they are pretty.

Redrow's two new fully furnished show homes, the Bramham and the Ashbourne, promote a development of two, three and four-bedroom properties within a delightful North Yorkshire village midway between York and Harrogate. There's a primary school and village pub within a short walk, while the train station is only a mile away. Current prices are from £409,950.
Val and Louise's beautiful bakes may no longer be on the menu at Churchfields, but the fully furnished show homes can be seen in all their glory Thursday to Monday inclusive from 10am to 5.30pm. For more information visit redrow.co.uk/churchfields.