Cherry Fields is proving popular in Banbury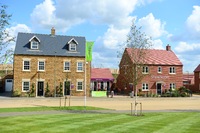 A thriving community is forming in Banbury, as homebuyers move into their brand-new properties at Ashberry's Cherry Fields development off Southam Road.
Growing families, first-time buyers and downsizers have been among the buyers so far at the development, which consists of two to five-bedroom homes.
Jane Yolland, Sales Director for Ashberry South Midlands, said: "It's lovely to see people settling into their new homes at Cherry Fields and a vibrant new community forming. It's a reminder that we're not just building houses, we're building homes that families will cherish and create valuable memories in.
"The great variety of homes being built at Cherry Fields means that we've seen a real mixture of buyers – from first-time homeowners excitedly purchasing their own property, right through to downsizers who are looking for a practical, beautiful home to settle in.
"Many of our buyers have been attracted to Cherry Fields by the fact that we're a five-star builder. That means that over 90 per cent of our buyers who filled out an HBF survey would recommend us to a friend, which is certainly a fantastic accolade.

"Buyers have used a variety of incentives to purchase their favourite plot – from Help to Buy through to our Ashberry Home Exchange scheme. These schemes make it easier for buyers to get onto or up the housing ladder, so we're delighted that so many buyers have used them to get their ideal home at Cherry Fields."

Many buyers have used the Help to Buy scheme to move onto or up the property ladder at Cherry Fields. Help to Buy enables buyers to purchase with a five per cent deposit and 75 per cent mortgage, with the other 20 per cent provided as an equity loan from the Government. The scheme is only available when purchasing newbuild homes up to the value of £600,000.
Others have used Ashberry's Home Exchange scheme to swap their existing home for a new home. Home Exchange offers a hassle-free way to purchase a new home, with the housebuilder taking away the stress of having to sell the existing home.
Under the scheme, two independent valuations will be made on the buyer's existing property, and a fair price will be offered based on those values. The buyer is then free to move into their brand-new home without worrying about selling their old home or becoming involved in lengthy property chains.
Three, four and five-bedroom homes are currently available at Cherry Fields with prices starting from £269,995.
For more information, visit the sales office which is open between 10.30am and 5pm between Friday and Monday, and 10.30am and 7.30pm on Thursday, visit ashberryhomes.co.uk.