Part exchange could be the key to your new home in North Yorkshire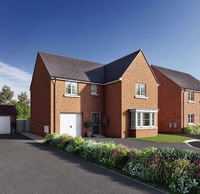 With more designs to add to its property portfolio in North Yorkshire, now is the perfect time to part exchange your home with Linden Homes.
A number of newly released homes are now available to reserve at the popular Copperfields development in Malton, where a fantastic selection of two, three and four-bedroom properties are being built.
Suitable for everyone from first time buyers, professionals, families or those looking to down downsize, the Linden Homes East Yorkshire development offers the perfect blend of traditional architectural styling with the benefits of a brand-new home in a perfect location.
And there is also the chance to assist buyers who have an existing property to sell, through the part exchange initiative.
Under part exchange, Linden Homes will arrange for at least three independent valuations of your existing home and will make you an offer based on their suggestions.
Once you agree the offer, and subject to satisfactory surveys, Linden Homes becomes your buyer, freeing you up to put in a reservation on your new home.
After that, it's a case of setting a moving-in date, boxing up your things, and basking in the relief of a quick chain-free move to the home of your dreams. You can stay in your existing home until your new one is ready.
A high number of recent reservations at the development means the next completions are due in this summer. Prices currently range from £219,950 to £324,950.
While Malton itself is a self-sufficient town, for those venturing further afield for work or leisure, the train station is within walking distance of Copperfields, with York and Scarborough a 25 minute journey away.
The sales and marketing suite is open daily from 10.30am until 5pm. Alternatively, visit lindenhomes.co.uk.