Edenstone's new Dinas Powys homes to bring community investment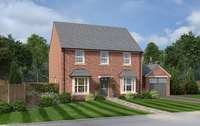 Schools, transport and community facilities in Dinas Powys will all benefit from extra funding linked to new homes being built by Edenstone Homes.
Experienced housebuilder Edenstone Homes has a reserved matters consent to build 50 new homes on a 5.7 acre site at Cross Common Road in the village in the Vale of Glamorgan.
Work to prepare the site is due to start imminently, with the first homes anticipated to be released for sale later this year.
A variety of three, four and five-bedroom homes will be available on the open market with 40% of the development designated as affordable homes, including a mix of social rent and intermediate rental properties.
Meanwhile, Edenstone Homes has pledged package of funding to benefit the community. This will include more than £260,000 towards local education, £100,000 for sustainable transport, along with a community contribution of nearly £50,000.
Further funding will go towards providing a fully-equipped play area on site, as well as a public art contribution.
Martin Taylor, managing director for Edenstone Homes, said: "Dinas Powys is a beautiful village – a great place to live, and to move to. We are excited to be developing a range of homes to suit a wide audience of potential purchasers, including first-time buyers, downsizers, professionals and families.
"The homes will be built to the high specification and quality Edenstone has earned its reputation for. Red brick, render and stone, along with slate grey tiles and hedge-lined boundaries will combine to create properties that look great and neatly fit with the rural surroundings.
"We are also looking forward to being a part of the community at Dinas Powys, developing a new neighbourhood of homes and making a positive contribution to the area in the process."
A comprehensive scheme of tree and landscape planting has been proposed to enhance the landscape surrounding new homes, also enhancing biodiversity and wildlife at the same time.
Dinas Powys is less than six miles from the centre of Cardiff and conveniently situated on the A4055 Cardiff to Barry main road, making it a great location for commuters, along with those seeking to be close enough to the attractions of a major city whilst enjoying the more tranquil benefits of living in a village.
Edenstone Homes has built a formidable reputation for delivering high quality new homes in desirable locations across South West and South Wales. To find out more, and see some of its existing developments, visit: edenstonehomes.com.
To register an interest in Edenstone Homes' new development in Dinas Powys, email enquiries[at]edenstonehomes.com