Three trade secrets you didn't know plumbers could do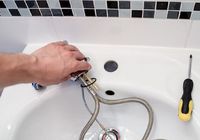 Everybody thinks they know what plumbers do. You call them when your pipes are leaking or if your boiler is misfiring or you have problems with anything to do with water in your home or business.
This is true but there are a lot more strings to the plumbers bow these days that householders should be aware of, especially when they come to thinking about installing or making these changes to their homes and properties.
1) Waste disposal units
Primarily an American innovation, the inbuilt waste disposal unit is becoming more popular in the UK for several reasons. It is more environmentally friendly to dispose of compostable waste this way than leaving it to fester and smell in a regular rubbish bin. They don't require refuse sacks or waiting around a week or two for the next recycling collection slot from the local council. Modern units are far more efficient than first generation models and are a lot quieter and energy efficient than ever before.
If you run a café, restaurant or other business in the food service industry than a waste disposal unit will make more financial sense for all of these reasons as well as keeping staff on their main preparation and service duties rather than waiting for them to sort out the rubbish collection and disposal themselves.
A modern plumber can advise you on the best type of waste disposal unit for your location and property, what will be the most suitable for your family or business depending on the number of people that will use it most frequently and whether any work will need to be done on your existing plumbing and sink set up to accommodate your new waste disposal unit.
2) Hot Tubs
Once these items were associated with the super rich or the swinging sixties Hollywood set but now from a central part of middle class entrance tests! The Hot Tub has quickly become the must have outdoor item in the UK in 2018 but this does not mean they are as easy to assemble and set up as an oversized children's paddling pool. There are pumps, filtration units, LED lighting and heating modules to consider as well as general upkeep.
Fortunately your reliable local plumber will likely have all this knowledge and should be your go-to call in order to set up your new Hot Tub and get it up and running in time for the colder Autumn and Winter nights so you can hop in with a prosecco after enjoying your fire pit barbecue – some of the other items on the list!
3) Environmentally conscious
As well as being professional enough to have Plumbers Public Liability Insurance on all of their work, a plumber will also be acutely aware of all the increasing legal responsibilities on them for their work and your domestic and commercial properties.
Whether it's fitting faucet flow restrictors, dual flush or pressure assisted flush toilets, tankless hot water heaters or converting showers and bathrooms to accessible versions or installing wetrooms, your plumber will be able to explain to you what are the most environmentally friendly options, what is legally and could be legally required in future and generally help you save money and do your bit for the planet at the same time.