Barratt and Grainger Trust launch affordable homes in Aldershot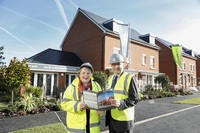 A quality new housing development as part of Wellesley in Aldershot will provide 91 affordable homes, local housebuilder Barratt Homes has revealed. Barratt Southern Counties has partnered with Grainger Trust, an independent housing association run by Grainger Plc, to deliver the stylish new homes at its award-winning Bruneval Gardens development on Pennefather's Road.
The brand new affordable homes will include one- and two-bedroom apartments, and two-, three- and four-bedroom houses. The properties will be available for rental and Shared Ownership tenure, with the first tenants expected to move in over summer.
Launched at the beginning of this year, Bruneval Gardens has been commended in the 'Built for Life' industry awards, a quality mark that recognises well-designed new homes, neighbourhoods and communities. The rigorous assessment rates design elements of a new homes development including access to local facilities, parking, landscaping and traffic management.
Lynnette St-Quintin, Sales Director for Barratt Southern Counties, comments: "Bruneval Gardens is an exciting new development of quality homes in Aldershot, and it is fantastic that we are able to work with Grainger to help deliver affordable homes for local buyers. In addition to the Help to Buy, Shared Ownership is another great way to help buyers onto the property ladder, while rental options are ideal for tenants seeking a brand new home. We encourage potential homebuyers or renters to come and find out more about the various routes to homeownership and tenancy available to them."
Alan Chitson, Development Manager at Wellesley, comments: "Our relationship with credible and quality housebuilders enables us to provide magnificent affordable homes on site, ensuring communities can flourish for generations to come."
Barratt Southern Counties will also be offering a range of two-bedroom apartments and three- and four-bedroom houses with prices starting from £275,000.
To find out more about the Shared Ownership and rental properties available with Grainger Trust, visit wellesleyhampshire.co.uk.
For further information on all other properties, including those available with Help to Buy, visit barratthomes.co.uk.