Battery electrics today – hybrids tomorrow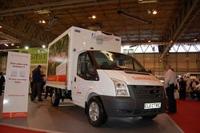 Transport companies concerned about the planned Low Emission Zone (LEZ) restrictions in London and others simply keen to show their green credentials, through dramatic emission reductions (including of course carbon dioxide and noise), are showing great interest in diesel-electric hybrids. But there are, as yet, no hybrids available on the UK market. Most are still at the prototype stage and involve such heavy on-costs which most would be contenders are unwilling to discuss.
In the meantime the same LEZ and green motivations are driving a resurgence of interest in battery-electric vans and trucks. They are simpler and less costly than an equivalent hybrid, but with obvious range and performance shortcomings. Arguably no vehicle builder in the world has more experience of battery-electrics than (the now slightly renamed) Smith Electric Vehicles of Tyne and Wear, whose milk-floats have been going into service with dairies all over the UK for well over 40 years.
At the NEC show SEV had on display a new generation of battery-electrics comprising repowered versions of established diesel-engined models, notably Ford Transit vans and chassis-cabs at 3.5 tonnes gvw and the Avia chassis-cab (dubbed the Newton by SEV) at 7.5 and 9 tonnes.
Adoption of Zebra sodium nickel chloride batteries in place of the hitherto ubiquitous lead-acid type are at the heart of what is claimed to be the technology breakthrough for SEV. They are some 80% lighter than lead-acid units with the same energy storage and deliver more performance. The converted Transit on show in Birmingham has a claimed top speed of 80km/h in combination with a range of up to 240km. Its kerb weight is quoted at 2049kg including its two battery packs. (A third battery can be specified to meet different range versus payload priorities.)
On a nearby stand Modec showed the distinctive bow-fronted battery-electric range which made its debut at last year's NEC show. Modec uses the same Zebra advanced battery technology as SEV.