Ready to assemble furniture - the way to go in 2020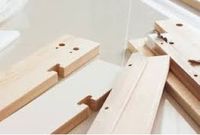 So, where did it come from?
Over the years we've seen a steady rise in the popularity of ready to assemble furniture. Today we are going to take a look at where flat-pack furniture came from and why it's so well-liked by buyers worldwide.
Prior to the 1950's flat-pack furniture had yet to make an appearance. Back then you would consult a carpenter and then undergo a lengthy wait whilst your furniture was painstakingly made and then delivered to you.
Records suggest that the first ready to assemble furniture was invented in Sweden in 1956.
This heritage, in part, has led to the country becoming renowned for its love-affair with quality furniture.
Ready to assemble furniture was brought to us by a man called Gillis Lundgren and it might not be a surprise to learn that he later went on to work for flat-pack giant IKEA. Lundgren's innovative idea came about following issues he experienced when packing a table he had purchased into his car. Faced with this annoying problem, Lundgren set about finding a solution - and ready to assemble furniture (or flat-pack as its often known) was born.
Why do people prefer it?
First and foremost, flat pack furniture is less expensive than it's premade counterparts. Retailers can charge less for ready to assemble items as they don't have to pay for the time and labour which goes into the production of the items. The only downside is that you have to assemble the furniture yourself, however, the majority of people see this as only a small price to pay, as they're already saving a substantial amount.
In addition to this, being as there is no labour involved in actually making the furniture, it's more likely that the item is going to be readily available for you. Before the invention of ready to assemble furniture, this was far from the case! Instead, you would have to pre-order and then patiently wait for your furniture to be assembled.
Flatpack furniture is considered ideal for modern life. With more and more people renting and moving from house to house, ready to assemble furniture is easy to disassemble and pack up. You're then ready to move to your new abode and quickly reassemble.Convenience and value for money are appreciated by buyers everywhere! On top of this, there's a wide range of ready to assemble furniture available.
With all this in mind, we begin to understand why the flat pack furniture market is so buoyant. In the UK alone, market research suggests that £24 billion is spent. Globally, that figure is therefore much bigger. Ready to assemble furniture is certainly big business both for manufacturers and retailers and the flat-pack trend has proved to be a popular concept. So much so that budget-conscious buyers can even purchase their own flat-pack home - ideal if you've priced out of the property market.
Are you looking for great value flat pack furniture?
Despite the low cost, there's a surprisingly wide range of options when it comes to ready to assemble furniture. So, you're sure to find something to suit your budget and the existing design of your kitchen.
Ready to assemble furniture is also the perfect solution if you are moving house or into your first home. You will no doubt need furniture that's both inexpensive and not time-consuming to set up.
If you're looking for a great value alternative to pre-made furniture, ready to assemble furniture could be the way to go. Why not check out the abundance of online retailers offering high quality but affordable kitchen cabinets?