How does your business benefit from a well-designed website?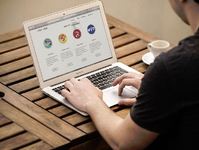 A well-designed website is often cited as being an essential asset for any modern business, but to truly appreciate how important this is you need to understand the variety of benefits it can bring to the table.
Here are just some of the top-tier advantages that come with a finely tuned website which should help convince any decision-maker that they should overhaul their business' site ASAP.
Enhanced discoverability
While there are a variety of enduring, traditional ways to help spread the word about your business, a website is indisputably the most important calling card for companies that want to achieve growth in the 21st century.
The better your website, the more likely it will be to appear on search engine results pages, since SEO is basically about ranking sites according to their quality as much as their relevance to a given query.
By taking advantage of the best firms specializing in UI and UX, you can ensure that those visitors who click through stick around for as long as possible, which in turn will create a snowball effect that boosts the visibility of your landing pages on Google.
There are a whole host of ranking factors to take into account, but in general a well-designed website will offer a sensibly balanced mix of them all and will reap the rewards of improved discoverability.
Reinforced reputation
The idea of not having any kind of website is arguably unthinkable in the modern age, although a poorly conceived site is potentially more of a problem than no site at all. Shoddy design will stand out like a sore thumb amongst a web-savvy customer base, so if you value your brand's reputation then you need to invest in a website that looks good, operates consistently and represents your business impeccably.
A website is the virtual storefront for your firm, so just as you would not want customers to stumble upon a bricks and mortar location which was not up to scratch, you should consider that the credibility of your company will be reliant on the quality of your online presence.
Impressive agility
While the user-facing aspects of a website need to be of a good standard, a well-designed site will also be built in a way that allows for an impactful degree of flexibility.
In practice this will mean that you can make alterations to the site on the fly, allowing you to add new products, announce important news to customers, adapt to changing market conditions and generally stay on top of maintenance with ease.
Efficient support
Chances are that as well as using your website to buy products and services or find out about your business in the first place, customers will also turn to it for after-sales support and follow-up information.
A well-designed website will be able to act as a repository of useful support tools so that you can deal with the volume of customer service requests more efficiently. You could even adopt a chatbot to automate the handling of customer queries, which is something that lots of visitors will appreciate.
Surging sales
At the end of the day, a business website needs to be able to convert those who visit it casually into customers who are willing to pay for whatever it is your organization has to offer.
With a well-designed website you will be able to map and mould the customer's journey and ensure that it runs smoothly from the first click to the final transaction. If you are eager to optimize conversion rates, good web design will be at the heart of this process.