5 ways to avoid common household emergencies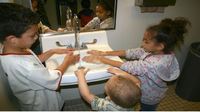 Home emergencies can happen anytime from a frozen condensate pipe in the midst of winter to cooling system breakdown during the peak summer season. You should take the necessary steps to keep your house, your family members, and yourself safe from those home emergencies. They are expensive and often embarrassing and cause massive inconvenience. You cannot predict when these emergencies can occur but you can be prepared by taking preventive measures to minimize their risk. With a bit of forethought and preparedness, you can prevent property damage and personal injuries and mishaps resulting from the unexpected household emergencies.
1. Keep Your Drains and Pipes Unblocked:
Clogged drains can be a real inconvenience and may result in overflowing drains and even property damage. Blocked shower or toilet drains have probably to do with what you are putting in there. You should not let anything get in your toilet other than your feces. Shower drains usually get clogged with excess hair, so you should frequently remove them by pulling them out from the drain cap. Also, you should clean your drains more often to keep them in good condition and prevent major clogs. You can use a toilet plunger to remove deeper blocks. You should often pour baking soda and vinegar into the drain to help break down any solid matter in your drainage pipes that may result in a drainage emergency. In case of an emergency, call a plumbing professional.
2. Lag Your Boiler Condensate Pipe:
You rely on hot water more than you think. You use it for showers, baths, washing dishes, making tea, etc. Your boiler has to be kept in good shape in order to ensure hot water supply during the fall. Malfunctioning boiler or breakdown can lead to extreme inconvenience, making you unable to take a shower when the temperatures are low. The best strategy to prevent boiler breakdowns and to avoid running out of hot water is getting a boiler insurance cover. The average life span of a boiler is 10 to 15 years. Check this website to learn about the boiler cover plans. Moreover, you should lag the consolidate pipe of your boiler as frozen consolidate pipes are a common reason for boiler breakdowns during winter. Therefore, insulate your boiler consolidate pipe to prevent it from freezing up in the frost.
3. Keep Your Roof Sturdy:
It's a good idea to take a peek on your roof when the weather is good. Carefully inspect all the roof tiles and check if all the tiles are in place to make sure none of them are broken. You should take a look at roof tiles after strong winds or heavy rains. Extreme weather conditions can cause tiles and slates to dislodge. Misplaced roof tiles can cause the water to seep in your roof resulting in leaks. You should immediately get a leak repaired by a licensed professional as ignoring this problem will only cause it to get worse and worse. Moreover, a buildup of leaves in the droves can also block the water access to your drainage.
4. Maintain Your HVAC System:
There are many signs of a malfunctioning HVAC system. You should regularly check it to avoid breakdowns. If your heating and cooling system are running but not producing enough heat or cool air, making odd sounds, or the system is leaking water, you should call a professional to get the problem fixed. However, you can take care of your HVAC system to keep it running smoothly. Regularly clean the filters of your HVAC system to remove the built-up dirt and grime. Also, clean the condenser coils using a stiff brush to dust off the coils. Therefore, taking proper care of your HVAC system is a good way to avoid breakdown and cold home.
5. Get Your Gas Appliances Serviced Regularly:
Gas leaks can be extremely dangerous and disastrous that can lead to explosions. Therefore, you should get your gas appliances checked and serviced by a Gas Safe engineer at least once a year. Your cooker and boiler are the main gas appliances in your home. Getting them serviced annually helps you avoid the likelihood of carbon monoxide poisoning, fire, explosions, and other life-threatening incidents. Whenever you suspect gas or smell a gas leak, you should immediately turn off the gas supply at the meter.