Is luxury vinyl click flooring a good choice for your home's entryways?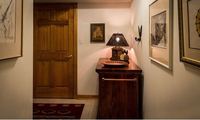 Hallways are one of the most high-traffic areas within your home, and they need to have special flooring to ensure that they will be able to hold up to anything that might affect them. From high heels to heavy workboots, the right floors will be durable and long-lasting, to ensure that the shine hasn't left your home after a few months of use.
One stylish option you could consider is luxury vinyl click flooring. Let's take a look at some of the reasons why this might be the best choice for your home.
Strong Durability
Vinyl flooring is a great choice for hallways and entryways because it is very durable and strong. Many forms of LVT flooring are also waterproof. This means that you should have no issue cleaning up if anyone trails mud in, even if you live in the country. You need to make considerations like this when choosing flooring for your hallway as it is one of the few places where you will definitely have people coming in with their shoes on.
There is also going to be far more people walking around. Even visitors who just drop things off might step over the threshold and you want a floor that can hold up to this sort of traffic. Luxury vinyl click flooring is the perfect choice here.
Any Design
As the vinyl is printed with the design you want, you have free reign to choose any floor that you could possibly want. Do you fancy an intricate parquet? How about a tile or stone effect? Anything is possible, you just have to find the vinyl you like the most.
Whatever your given aesthetic might be for the floor, you should find a floor that will match it. LVT flooring is some of the most versatile flooring you could choose for your home and you will be blown away by the variations you can choose from.
Low Maintenance
One of the best reasons to choose luxury vinyl click flooring is because it is very low maintenance compared to others. While the hallway is the first impression many get of your home, it might not be cleaned as often as high-use areas like your kitchen or bathrooms. As a result, you need to find a floor that will still look good even if you aren't cleaning it every day.
This is why vinyl click flooring is so good. A sweep or a vacuum every now and then will keep it looking fresh and up to date. If you do want to clean a little more thoroughly, a damp microfibre mop will be all that is needed.
If you have been struggling to come up with precisely the right flooring for your hallway, you should definitely consider looking into vinyl flooring. There is so much to choose from here, and you could very easily find one that suits your design aesthetic perfectly. It is high time that you created a hallway or entryway to your home that creates an impact and lets visitors know what to expect from your home. Find the right LVT flooring for you now!