Failproof Ways to Impress Your Customers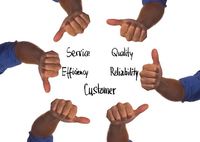 Every business needs to keep its customers happy. But too many companies make the mistake of not going above and beyond the basics for achieving customer satisfaction. You shouldn't just want your customers to be satisfied. You should want them to be ecstatic with the services and products you provide. The more you impress current and potential customers, the more revenue and profits you will gain.
Resolve Issues Before They Arise
By regularly monitoring online customer feedback, you can see what common issues and questions arise for your product or service, and take steps to deal with those problems straight away. In addition to using your own customer feedback forms, find out what people are saying about your products or services on different social media platforms. But don't just address issues in the shadows. If you want to impress your customers, communicate via social media platforms to tell your customer base what you are doing to solve specific issues. Customers will appreciate your openness and attempts at helping them. And that will attract new customers too.
Give Away Free Promotional Products
A failproof way to impress your customers is to give them quality promotional items. After all, everyone loves receiving freebies. Customers who receive free-gifts will remember your brand and are more likely to continue regularly using your products or services. You should pick the right promo items, though. Consider your target audience, budget, and current promotion to determine which freebies to give away. Also, it's a great idea to select promotional products that people will actually use. That ensures people see your brand regularly. For instance, if you put your brand on an umbrella, it will be noticed every time someone walks down the street in the rain. There are all types of promo items that will undoubtedly impress your customers. For instance, Promotions Warehouse has a massive range of quality promo items, including USB flash drives, mugs, cooler bag, and golf balls.
Personalize Communications
The more your company seemingly goes out of the way to make customers feel special, the more you will gain loyal customers who return again and again. Email is one of the best ways of communicating and engaging with your audience. Personalize your correspondence and also offer incentives or perks. For example, you could send customers e-cards on their birthdays and give them special discounts. Your customers will be impressed that you care.
Give Quick Responses
Customers hate waiting. Make them wait too long, and you will lose their business. So, when dealing with customers via any form of communication, ensure you respond quickly. For instance, if a customer is trying to complete an online transaction and his or her questions and concerns are not addressed instantly, the customer is likely to abandon the transaction and go to a competitor. The same goes for telephone calls. Particularly, nobody likes waiting in a queue on the line. So, make sure you employ enough operators to give quick and first-rate service. You can also use mediums like live chat to ensure customers are dealt with quickly.
Go Out of Your Way
Many customers will feel as though your business is going out of its way to send things like freebies and personalized birthday e-cards. But if you really want to impress your customers, you actually need to go out of your way. Customers are, of course, your business's biggest asset. So, never leave a customer dissatisfied. If you do, your reputation for lousy customer service will soon get around, and you'll lose current and potential customers. Go the extra mile to keep every one of your customers happy, and you will see your profitability increase.