Further delays facing the travel industry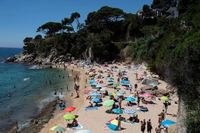 Many have been hoping for the possibility of a summer holiday this year after a number of months suggesting that it wouldn't be a possibility for many of us - there had been some adjustment period however as it seemed particularly in Europe that things had started to look up and it led many to taking a holiday despite better judgement being issued not to, but it is now beginning to look as if travel may be off the cards once again.
There has been a recent change within the UK as the popular summer holiday destination of Spain has recently seen an increase in confirmed coronavirus cases, the change places those travelling back from the country on a mandatory fourteen day quarantine leading to many questioning whether or not they should continue to hold their booking and reservations, with other news suggesting that there may be concerns growing of a second wave of the virus within Europe as a whole may put further delays on the travel industry - if the same starts to ring true for other countries across Europe it may become the catalyst for borders to begin closing once again and cause further delays to an already struggling industry.
Similar may be true worldwide too - the US is still facing a continued battle with the coronavirus as although international travel is still restricted, domestic travel is occurring at a higher rate. One of the current tourist hotspots has been seen in Las Vegas as sin city continues to welcome a growing number of guests, despite recent reports of growing numbers of cases and other changes that would cause bars to close once again, many casinos have remained open and operate at full capacity, where some are turning to new and popular online alternatives such as here they review Fortune Clock Casino online, others still very much require the real thing, but opening the door to travel may be one of the reasons for the numbers continuing to grow.
With a continued focus on returning to normal and an economic recovery there may be many steps taken to ensure that travel can get underway again and the tourism industry can be kickstarted again before summer is over especially as temperatures across Europe continue to soar and being very inviting, but the risk of a second outbreak is very much slowing that plan. A bigger challenge to overcome at the same time too are the different rules between different countries for the best ways to manage the virus, many have mandatory mask requirements where others see this as an optional choice, similar with social distancing and other protective measures, until there's some universally accepted approach that becomes widespread this will continue to be an issue - what's becoming clear however is that we're a long way away from returning to any form of normal travel and we still require as many measures as possible to ensure safety or return to a time where travelling is restricted until control is found once again.