Top design trends taking over interiors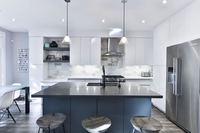 Around 90% of all homeowners plan to remodel their homes, reports a survey from Trulia, with nearly 40% planning to undertake renovations within the next two years. The most commonly renovated areas include bathrooms and kitchens, though many homeowners are also opting to undertake period remodelling, updating older homes with modern architecture and technologies. If renovation is on the cards for your family, what top trends should you watch out for?
Biophilic Design
Biophilic design is a trend that marries human and natural elements in a seamless, organic manner. Current world events have led homeowners to embrace the wonder of nature and to seek new ways to bring nature indoors. This can be achieved through the incorporation of indoor plants and vertical walls into design, as well as through the use of recycled and/or sustainable wood in furniture items and decorative pieces. Living rooms, bedrooms and bathrooms are also embracing the calming effect of the Great Outdoors through elements in stone, metallics, and wood-effect ceramics.
The Quest For Light-Filled Living Spaces
It's been a trend for a while now, but it continues to be a popular choice to knock down walls in common areas to create floor plans that foster communication and enable light to flood through a greater area of the home. As pointed out by Mangum Home Builders, connected floor spaces are being accompanied by raised rooflines to lend areas like the living room a greater sensation of light, space and freedom. The idea is to make space the protagonist through the use of minimalist staircases, open kitchens, and separate work and living areas separated by design rather than physical barriers.
Outdoor Entertainment
Homeowners are welcoming nature into their interiors, but also seeking to find ways to make better use of their outdoor space. If recent events have taught us one thing, it is that human beings need to be creative when it comes to finding sources of entertainment at home. The garden is the perfect place to start. Outdoor terrace areas built on wooden decks or grey stone flooring lend visual splendour to the meeting space between indoors and outdoors. Electric pergolas and sail shades enable dwellers to control sun exposure and even the angle through which the sun can reach this al fresco space. Those with pool areas are using empty garden space to create zones featuring outdoor bars and barbecue areas that can be completely closed off against inclement weather via electric doors, which can be raised or lowered at the touch of a remote control button.
Mixed Metals
Metals like copper, steel, and bronze add a touch of warmth to both minimalist and traditionally designed spaces. Today, these materials can be found as much in chic living rooms as in kitchen islands, designer light pieces, and furniture pieces like sideboards, desks, and tiling. Copper and nickel accents are also found on doorknobs, pendant lights and lamps.
When it comes to design trends, the crusade for light is arguably one of the strongest. Knocking down walls and raising roofs lends homes a sensation of freedom and enables dwellers to live more sustainably, with less reliance on electrical sources of light. Additional trends to watch out for include the use of biophilic elements in interiors, the creation of outdoor entertainment spaces, and the use of metals for greater sophistication and luxury.