Secure Empty Property join BSIA to make plywood obsolite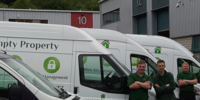 Secure Empty Property is delighted to announce its membership of the British Security Industry Association (BSIA). The BSIA is the trade association for the professional security industry in the UK and underlines the company's commitment to quality and service delivery.
Secure Empty Property has joined the Vacant Property Protection Group which focuses on organisations with specialist technology and services designed to mitigate risks of vandalism, arson, squatting, theft, fly-tipping or traveler occupation in residential or commercial property. Members actively contribute to improving industry standards; specifically the delivery of works to meet the British Standards Institute (BSI) standard BS8584, the standard for Vacant Property Protection.
The Directors of Secure Empty Property founded the Vacant Property Protection Group initially in previous roles and bring over 25-years experience to the Group. The BSIA will be essential to drive up security standards when dealing with insolvency or repossession of property. They can also work with insurance companies who may be unaware of recent technology developments and new risk-based security options to mitigate risk cost effectively.
In time, plywood boarding as a method of securing empty property will be a thing of the past as more effective and efficient methods are delivered by the Vacant Property Protection Group members.
Simon Broadbent, CEO of Secure Empty Property says, 'We are delighted to bring our expertise and experience to the BSIA Vacant Property Protection Group. Our company has been at the forefront of developing new services and security technology for the industry which will benefit both the BSIA and commercial and residential landlords'.
Secure Empty Property installation teams work Nationwide.
For more information, visit secureemptyproperty.com.