Cool DIY living room decor ideas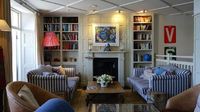 The living room is the most important in a home. It's a social centre where family and friends get to mingle with each other. No doubt, most homeowners go out of their way to make sure that this space looks warm and inviting. Whether you are on a tight budget or out for creative home decor, millions of easy home decor ideas are easily available to spruce up your living room.
Updating your living room into a peaceful haven is such a rewarding process. Furniture in this space plays a focal role in how the room looks. We live in a world where everything is accessible and furniture is no exception. It's just a matter of knowing where to look and having the right budget. Such avenues include modern furniture stores online where the best furniture brands showcase classic and elegant furniture designs.
DIY has become a popular avenue in home decor. People have come to virtually love customising everything they own, maybe implementing - for a final touch - with some classic italian design furniture for the living room. Many millennials are going the DIY route as a way to create furniture that fits their specific needs, reconnect with their bodies and sharpen an overlooked craft. The internet is a great research point filled with great tutorials and plans to assist one build their furniture and accessories. Below are some DIY living room decor ideas that are easy, affordable and beginner-friendly;
- CRATE COFFEE TABLE
The crate coffee table has got to be the easiest living room decor idea. This cool project requires little knowledge of woodworking with the simplest of tools. All one has to do is purchase four crates and four furniture legs that can easily be sourced from the best modern furniture stores online. Assembly is quite easy - some nails and a hammer and you are good to go. To give some oomph to the coffee table, one can add a plexiglass top which lets you see inside of the table making it look well crafted and expensive.
- FLOATING BOOKSHELF
Shelves are paramount in every home regardless of the size. They are an inordinate way of decorating blank living room walls and empty hallways. Shelves are great for storing all sorts of things from books, magazines, plants, picture frames, kid's artwork to valuable antiques. Floating bookshelves can be made from pre-cut pine boards and brackets. One needs to spray paint the L-brackets and attach them to the wall then rest the pine board as the shelves. For a flawless finish, paint the screw heads to match the entire shelf.
- PALLET TV STAND
The most common feature of a living room is a TV set that usually comes with a stand unless you are one of those individuals who like to hang their TVs on the walls. The eclectic pallet TV stand is a special way to personalise your space. A glass top is a fun finish where one can display their favourite music and movie collection.
- CORNER BAR
Having a bar in your living room doesn't have to be complicated but rather effective. Bars in a living room are a conversation starter not forgetting the fun times they bring. To build a simple corner bar, one needs to first build the underframe and legs from treated wood. The shelves and the top are then securely attached with glue and nails. Never forget to varnish this unit for that smooth breathtaking finish.
- DINING BENCHES
For those crunched on space, the dining area is usually located within the living room space. This often requires one to either buy or build a small dining table to fit the limited space. Benches, therefore, have become the go-to options instead of those oversized chairs. There are many ways to build a bench ranging from basic planks using logs to wooden slat benches.
- PLANT BOXES
Plants are a great way to bring the outdoors in and add life to a room. While plants make a major design statement, the rule of thumb is to not over decorate. A hanging or a standing plant box is a cool way to decorate your living room. It's easy to build from pallets or leftover wood, assembled with nails or glue.