How to choose the perfect wall mounted lights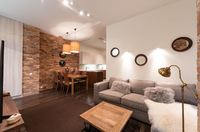 Wall mounted light fixtures are versatile and practical. If homeowners take the time to choose their fixtures carefully, they can also add both effective and aesthetic value to hallways, rooms, entryways, and even outdoor areas. There are hundreds of styles and designs to choose from, though, and homeowners must consider all relevant factors if they want to find the perfect fixtures to meet their needs.
Consider the Location
The first thing to think about when choosing wall mounted lights is where they will be placed. Let's start with the obvious: will the lights be placed indoors or outdoors? There's a reason to start with this basic question. Outdoor lighting fixtures need to be able to withstand the elements, so homeowners who want to use wall mounted lights to illuminate their entryways, patios, or decks will have more constraints in terms of materials. They can purchase outdoor fixtures from Steel Lighting Co that will be able to withstand all kinds of weather conditions.
Planning to install the new lights indoors? Careful consideration of the intended location is still crucial. In hallways, bathrooms, and other smaller rooms, space might be a top priority, in which case smaller fixtures are a better bet. In larger rooms where the wall mounted lights will be used as the primary source of illumination, larger fixtures may be necessary.
Hardwired vs. Plug-In Lights
There's another practical reason to consider the lights' intended location. It gives homeowners an idea of whether they'll need the help of an electrician to rewire their homes or not. Some types of wall lights are designed to be plugged into outlets and mounted using the hardware included in the kit. Others require hardwiring. If homeowners know where they want the lights, they'll be able to tell if it makes sense to take up space in a nearby outlet or hire a pro to rewire the room to accommodate new fixtures.
Determine Intended Use
Some wall mounted light fixtures are designed to provide ambient or accent lighting, while others are large and bright enough to replace overhead fixtures. Every light fixture has certain requirements when it comes to bulb strength, so pay attention to their specifications and keep in mind that larger fixtures don't always offer greater coverage. Homeowners will also need to consider factors like shading mechanisms and angles.
Types of Wall Lights
Once homeowners know where they will be placing the lights and what they expect to get out of them, it's time to start investigating options. Wall lights come in all shapes, sizes, and styles, but they generally fall into one of five categories:
1. Up lights, which are most suitable for accent lighting
2. Downlights, which are more commonly used to illuminate the ground for easier nighttime navigation
3. Swingarm lights, which have adjustable arms
4. Vanity lights, which provide even, glare-free illumination for mirrors
5. Spotlights, which are used to highlight unique artwork or architectural features
It's fine to get creative with lighting. There's nothing wrong with incorporating downlights traditionally associated with entryways along the edges of long hallways, for example. Just make sure the fixture type will be able to provide sufficient illumination given its location and intended use.
Choosing the Right Style
Most homeowners who want to install new wall lights have a combination of practical and aesthetic motivations. After all, the new light fixtures won't just provide illumination. They'll also become a part of the room or outdoor space's unique decor. The right fixtures will complement the rest of the room's style, and by extension, help to express the homeowner's personal taste. Here are a few of the most popular styles of wall mounted lights to choose from:
Wall Sconces
Wall sconces are fixtures that feature one arm extending out from the wall to a bulb housing. Most feature just one bulb. Sconces can be goosenecked or straight-armed, and they can be used for multiple uses, from ambient and task lighting to spotlighting. Gooseneck wall sconces mimic the appearance of antique oil lamps, and they're perfect for adding a touch of elegance. Straight-arm fixtures look better in contemporary or industrial designs.
Wall Brackets
Wall brackets are very similar to sconces, but there's one key difference. While sconces are equipped to house just one bulb, wall brackets have multiple sockets.
Torchiers
Torchieres position the bulb closer to the wall and often feature angled shades. They're perfect for uplighting, but may not be as good for downlighting because they tend to illuminate the wall rather than the floor.
Electric Lanterns
Electric lanterns are used almost exclusively outdoors. They provide a touch of elegance and warmth when installed in entryways or near outdoor staircases. Homeowners who like rustic decor can also install lantern wall mounts indoors.
Light Controls
Most modern homeowners prefer lights attached to dimmer switches. These specialty switches must be installed by an electrician, but once they're operational, they can be used to change the brightness of the lights as needed to alter the ambiance and keep electric bills manageable.
How to Space Wall Mounted Lights
Homeowners who already know what kind of wall mounted fixtures they want still have at least one important decision to make. They need to figure out the spacing. Those who are planning to add accent lighting can usually install just one fixture in the area of the room they want to highlight, though adding a second one nearby can create some extra visual interest.
For more practical applications such as hallway lighting, the general rule of thumb is to space the lights at eight- to ten-foot intervals. Be careful not to overdo it. Too many wall lights can make a hallway feel like an airport runway. When placing lights on both sides of a hall, try to stagger them so they don't line up perfectly.
The Bottom Line
There's more than meets the eye to choosing the right wall mounted fixtures. It's fine for homeowners to choose their own wall lights, but they should still hire electricians to install the fixtures and ensure that the lights will provide sufficient illumination.