Building a home conservatory: Avoid making these mistakes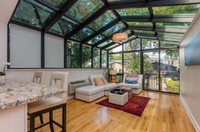 A conservatory is a room in the home made entirely of glass. With no walls and endless possibilities, it's the perfect spot to relax and unwind as you gaze out the windows and enjoy your natural surroundings. A conservatory can easily become a family room, a kitchen extension, an office, or even an indoor spa. It's also ideal for plant lovers because of how much sunlight shines through — you could turn a conservatory into an at-home greenhouse.
Are you considering upgrading your house with a conservatory addition? While it's an exciting project, it's important to remember a few don'ts before you begin installation. Read on to discover mistakes you'll want to avoid as you start the building process.
Forgetting the Rest of the Ground Floor
Your new conservatory should flow smoothly with the style and structure of the entire ground floor of your home. You want your home to feel like a flexible and comfortable living space. When you invest in new plastering, flooring, and electrical wiring for your extension, consider getting the full potential out of your investment by re-configuring the adjacent rooms.
Undervaluing the View
One of the advantages of having a conservatory in your home is having the opportunity to look out at your beautiful front or back garden. To enjoy the scenic views of nature at any time of year, always take extra time to plan the location of your new addition. The design of your new extension and its positioning is crucial to bring in an optimal view. You'll want to be able to relax as you gaze outside with warm sunshine rays pouring in.
Pinching on Space
If you have the resources, why not make the most of your new conservatory extension? An ideal conservatory is airy and spacious so that you can experience the luxuries of the natural night coming through the glass and access to incredible scenic views. A more extensive addition would also allow you to bring in features such as houseplants and lounging chairs, which would provide comfort and elegance to your home. Check out these conservatories in Toronto for some inspiration on how to enhance your new space.
Neglecting Aesthetics
Once you sort out the exterior and maintenance plans, you can focus on decorating the interior space. The internal decorating of the conservatory is crucial because it's where you'll be spending the most time. Regardless of how you're planning to use the space — either as a busy spot for friends and family or more of a secluded, quiet area — you must plan, budget, and purchase accordingly to create the desired mood and energy.
For example, will you utilize soft or vibrant colours? What style of furniture will you use? You might want to follow the interior design vibe of the rest of your home or change things up a little with something different. It's a great idea to sift through interior design magazines to see what the professionals suggest regarding conservatories and solariums at home.
Installing a conservatory addition in your home is the beginning of something unique for you and your family. Just remember to make the most of your brand new extension with these tips.