10 simple & modern patio ideas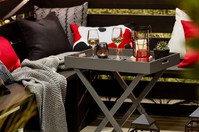 Now that summer is here, it's time to consider refreshing your outdoor living spaces. But where should you start?
When contemplating what direction to take your patio in, research is imperative to pick quality items without breaking the bank. Before redecorating, consider using a directory to find the store you're looking for and check to see if they have any flyers available.
Directories and flyers can help you get a better sense of what you can find in-store and at the best cost. Design trends are constantly changing, so it's important to locate the trendy stores offering the best prices for chic, quality items.
Start a patio refresh with these simple items and projects that will make your patio the place to be.
Drape Fairy Lights
Fairy lights are perfect for summer evenings. This easy addition can be draped along the fence or throughout the trees in your backyard. The lights will add warmth and make for great photos.
Add Greenery
Every yard needs plants and flowers to liven up the space. Plants can add character to the backyard and give reason to go outside. Consider building a vegetable garden to bring fresh food straight from your backyard to your kitchen.
Outdoor Rug
Rugs don't always have to remain in the home. Include a rug under your outdoor furniture to add a little extra to the space. Rugs also add contrast to outdoor seating.
Build a Bird Feeder
There's nothing quite like waking up in the morning and hearing birds sing. A bird feeder can be a fun family project and add something unique and intimate to the patio.
Paint Your Fence
It's simple yet effective. Painting your fence will immediately give any backyard a much-needed facelift. If you want to upgrade your patio while also increasing house value, a fresh paint job will do just that.
Hang a Hammock
Nothing quite screams cozy like a hammock in a backyard. Hammocks are welcoming to all and create a relaxing aura. Grab a book, and spend hours on your patio with your new hammock.
Add Outdoor Textiles
Lift your seating space with new, bright and summery outdoor pillows. A striped yellow pillow cushion will bring any furniture to life. If your environment allows it, outdoor curtains are a nice added touch.
A Window Ledge or Box
Effortlessly elevate your backyard with the addition of a window ledge. For anyone who has a large window facing the backyard, a long piece of plywood and brackets is all you need for an easy DIY window ledge. A window ledge is excellent for homeowners who love to host parties.
If you prefer florals to parties, build a window box full of your favorite flowers.
Create a Zen Corner
Pick a corner and place a few floor pillows next to a water fountain with led lights — the simpler, the better when creating an area for tranquillity. Soon, you will want to begin every morning in your zen corner.
Outdoor Light Fixture
If your patio has a roof, add a light fixture. You can add a rattan chandelier or a sleek, black pendant light. The outdoor light fixture will add warmth and give you more reason to stay all night outdoors.