4 ideas for your return to in-person corporate events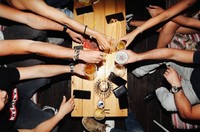 Video conferencing has proved its worth exceptionally during the past year, but keeping your employees happy and motivated requires more than mere functionality. Restrictions everywhere are loosening, so the time is fast approaching when it will be safe to return to in-person gatherings.
Even if it isn't quite feasible at this time to return to regular office hours, you might be able to host company events for your staff, clients or industry leaders. These types of gatherings allow your staff to reconnect in person and help to bring back a much-needed sense of community and regularity to your company.
After such a long break from interacting in-person with your employees and associates, you're probably feeling a little rusty when it comes to event planning. Ensure that your next company event is a great success by following these tips.
1. Hire a Caterer
There's no better way to reward the professionalism and drive of your employees than to repay it in kind by treating everyone to a professional catering service. Hiring an expert rather than simply ordering food will help make a company appear successful, making an enormous difference regarding the confidence and drive of your team.
Choosing an established industry leader like McEwan Catering will allow you to provide your employees and guests with a level of culinary excellence that reflects the quality of their work.
2. Location, Location, Location
The success of any event can largely depend on choosing an appropriate venue. If you pick the wrong environment for your function, the entire affair could go poorly. For safety reasons, the best place to host any larger event this summer will probably be an outdoor location. Luckily, this option will work well with the plan to hire a catering company since you won't have to worry about stepping on the toes of a venue that also serves food.
3. Keep Objectives in Mind
A corporate event shouldn't feel like a day at the office. The number one sign of an unsuccessful company gathering is one where the employees feel obliged to attend. When your employees feel they are treated well with fine catering, they will be happy to attend. If the objective of your event is to reward your staff, then it's vital to consider whether everyone feels appreciated. If you have other objectives in mind, such as company announcements or team-building, don't let the focus stray too far off-topic.
4. Plan Events According to the Regulations
While it may be challenging to negotiate a smaller event when you're working in an enormous industry or running a large company, personal safety remains paramount. Like everything related to post-pandemic reopening, it is crucial to maintain proper safety regulations regarding the number of people in attendance. With Ontario moving to Step 3 of the reopening process on July 16, 2021, outdoor events can accommodate up to 100 people, while indoor events can host up to 25 people.
Whether you're throwing a bash to reward your employees for powering through a difficult time or simply inviting the top players in your industry to a fellowship event, you won't want to look out of practice. Symbolic gestures, such as hiring an impressive catering team to feed your personnel, will let everyone know that your company is on track for an astounding recovery year.