Interior Design Trends in 2022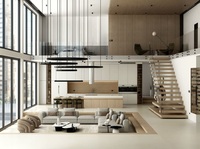 Interior design rarely changes drastically, from one year to another. However, there have been important changes that have been noticed in the field, throughout the last few years, and that are still valid today. Namely, letting in more natural light and choosing natural materials and colours. Here are the continuing trends for the year, as well as those coming in.
Let the Sunshine In
The tendency to open the house to the outside world started a few years back. At the beginning, it was more about opening ourselves to the outdoor, and breaking that fortress identification that houses have had, almost forever. It was not a small change by any means, and it could have fallen flat. But it did not. Instead, it grew over time, even increasing, thanks to the pandemic. As people spent more time indoors, they felt the need to let the sunshine inside their walls, to brighten up their lives.
This year, folding doors and large format windows, which you can find at https://aluprof.eu/gb, will remain one of the most sought items, to renovate the house. The more abundant natural light will flow into our homes, the happier we will be. It also enables a complete renewal of the air inside, simply by opening up all these large glass panes, and letting it come in. Aluminium windows and doors will therefore remain popular in 2022, increasing their presence in new houses, but also in those being renovated.
Let the Nature In
This cycle of being closer to the environment also finds itself in the choice of materials used for the furniture and the colours used. Synthetic is slowly leaving our living spaces for natural materials such as cotton. This is once again to find ourselves closer to nature. It is easy to see, as we find many of the sable colour declination in our homes. It is almost as if we would like to recreate a day at the beach or in the park, however, in a full luxury setting.
Vintage is Here to stay
Vintage is another trend that could have come and gone. But as of now, it is not relenting, keeping a strong place inside our home, in many different ways. There can be no doubt that the main reason for this tendency to go on, is that we all want to be more eco-friendly. The environment has become the most important subject in our collective mind. Therefore, it is quite normal that we see its repercussion inside our own environment: The house we live in.
But the most important aspect of vintage items is that they bring personality to the room, like no other item can. It is a statement made that goes a long way to create a given atmosphere, yet it remains simply a touch. It is also true that most of these items can be had, at a bargain price (considering the effect they will have in our interior), which might not be the case if we had to acquire them brand-new.
Back to Black
Black is elegant. Black is timeless. Black is the new black. Yes, black is making it hard not to have it enter into our home. That could be considered as strange, since we are seeing the trend of having more natural light, flooding our houses. But this comeback is made through accents and hardware, which doesn't negate the capacity of sun rays to lighten up our world. In fact, it often comes to break the monotony of the neutral colours that we now find in most rooms, around our houses. One has to be careful with the number of black items it integrates, though. It can quickly take too much intensity, turning what was a sunny environment, into a moonlit one. And that would definitely be an untrendy feeling.