6 ways landscaping a lake-side house increases property value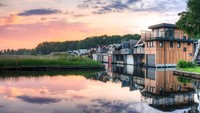 If you're lucky enough to own a lake-side house, then you know the importance of keeping the property looking good. Not only is it a place to relax and enjoy nature, but it's also an investment. By landscaping your property in a certain way, you can increase its value significantly. This blog post will discuss six ways landscaping can improve your lake-side home's value.
Add a Deck or Dock
Adding a deck or dock to your property can increase its value in several ways. Not only does it make the property more attractive and enjoyable, but it also provides extra space for activities like fishing, swimming, and boating. In addition, a deck or dock can increase the value of your home by providing more living or storage space.
By carefully planning your deck or dock design, you can maximize its potential for increasing your property value, and you can do this by visiting a professional website like decks-docks.com. Decks-docks.com has a wide variety of deck and dock designs to choose from, so you're sure to find the perfect one for your lake-side home.
Pay Attention to Curb Appeal
Curb appeal is one of the most important factors when it comes to increasing the value of your home. It's the first thing potential buyers will see, and it can decide whether or not they choose to tour your property. To increase your home's curb appeal, you must ensure that the exterior is well-maintained and looks attractive. This means keeping the lawn neatly trimmed, removing any clutter from the yard, and painting or repainting the house as needed.
You can also add landscaping features like flowers, shrubs, and trees to improve the look of your property. If you spend a little time and money on your home's curb appeal, you can increase its value significantly.
Improve Privacy of the Property
Another way landscaping increases value is by providing privacy. If your home is on a busy lake, you might consider planting some trees or shrubs to create a more private setting. This will make your home more attractive to buyers looking for a peaceful retreat.
Make It Energy-Efficient
A fourth way landscaping can add value to your property is by making it more energy efficient. This is becoming increasingly important to buyers as the cost of utilities continues to rise. By planting trees and shrubs around your home, you can provide natural shading that will help keep your home cooler in the summer. In the winter, evergreen trees can provide windbreaks that will help reduce heating costs.
Outdoor Living Spaces
Fifth, landscaping can add value to your home by creating outdoor living spaces. These are areas where you and your family can enjoy the outdoors without leaving your property. Adding a deck, patio, or pergola can create an inviting space for entertaining guests or simply relax in the fresh air.
Protect Against The Elements
Finally, landscaping can help protect your home from the elements. By planting trees and shrubs around your home, you can provide a barrier against wind and sun damage. This will help keep your home in good condition for years to come, which is essential to potential buyers.
You can also create a natural barrier against insect infestations by doing the things listed above. This will help keep your home in good condition and reduce the need for pesticides. In addition, by providing a natural habitat for birds and other wildlife, you can help control the population of pests around your home.
Final Thoughts
As you can see, there are many ways landscaping can increase the value of your lake-side property. If you are considering selling your home in the future, keep these tips in mind. You can make your home more valuable and appealing to potential buyers with some work.