Gorgeous outdoor decor ideas for your yard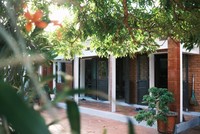 Curb appeal adds up to the value of your home. But you will not need to think about your outdoor aesthetics only when selling your home. Small projects such as flower beds, gardens, and simple landscaping will make your yard much more enjoyable and significantly increase your home's value. One of the best things to do when decorating your yard is to hire a landscaping architect to give you professional advice on how to ornament your yard or even hire them to design the entire look of your garden. So, we have prepared a couple of valuable tips on how to decorate your yard.
Calming Outdoor Features
Water features are the ones performing double duty for the outdoor spaces. They are able to provide you with a relaxing, audible water flow and make a beautiful sculptural feature. According to the professional opinion of experienced landscaping architects, water features will provide you with numerous aesthetic features, yet the most important thing about these ornaments is the sound. Outdoor fountains are a beautiful outdoor water feature to add to your front yard, and they contribute to the aesthetic value of the entire place. You must keep in mind that the majority of fountains will need an electric hookup, so you need to be mindful when you are selecting the placement. If you live in areas where winters are extremely cold, you will also need to consider some storage options and discuss with the manufacturer the details about winterization. The essential thing is water movement as well. You must look into the water flow and not make it stagnant, which can act as a perfect ground for mosquitoes to lay eggs
Steamy Hot Tub
A hot tub is the perfect addition to the backyard and is a great feature for people who like to entertain themselves. Unfortunately, most hot tubes are not eye-catching at first, and you will want to consider every detail for them to perfectly blend into your space. If aesthetics are what concerns you, you will want to consider a bubbly outdoor tub that is made out of water-resistant wood that will blend into the natural landscape of your garden. Also, you can also consider adding a couple of jazzy hangout spots that make a nice piece of decor. One of the best ways to make a hot tub a part of your yard is to sink it into the deck and add a pergola overhead.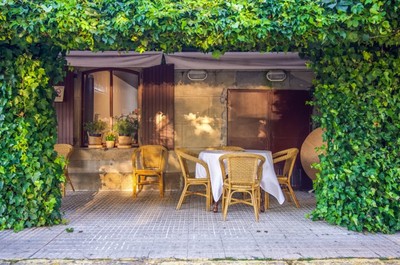 Trees As Landscaping
You need to remember that a yard without any trees can be quite easy to maintain as you will not need to deal with leaves, but it will make your space look and feel bare. Trees are the features that will help you with the privacy of your open yard. So, choosing the best trees for the climate is key for you to elevate the visuals of your space. You should also consider the full-grown size of the trees you are planning to integrate into your landscaping. In case you are dealing with a smaller front yard, you would like to consider bushes or even dwarf-sized trees.
Flower Garden for the Color
Adding a flower garden is not a big-brainer for you to make your space look good. A garden full of flowers will bring a lot of color and life into your space. By planting flower beds in your garden, you will make the lifeless spaces come alive. One of the best options for making your garden look like a real flower paradise is to plant your flowers to create a more natural and wild look, avoid straight lines, and enhance the natural curves.
Vertical Structures and Climbing Plants
Are you looking for a dash of shade in the sunny yards? Did you know that you can combine both beauty and functionality by implementing vertical structures and climbing plants so that they can provide you with shade and privacy at the same time? On the other hand, it is also one of the best ways to incorporate plants if you do not have enough space. Also, when you are selecting the plants for your vertical floral structures, you should opt for the ones that can bloom more than once during the one-year span.
Make the Best Use of Lighting
Outdoor lights are not the trend for the holidays anymore. On the contrary, architects and space designers started to see the influence and impact of good lighting and decorative lights, which will help you not only brighten the space but increase its aesthetics as well. You should see it like this; the lights will add another 12 hours of daylight to your garden every day. Try adding lights to the trees and putting them into bushes for an even more dramatic and wild look. In addition, you can line up the pathways and put the lights along the curb. There are also options for you to add lighting to your fountain or other water features for even more drama.
Do Not Avoid Succulents
For some regions, drought can pose a serious problem, and by bearing this in mind, you should also choose plants that can sustain extreme weather conditions. Choosing plants that will need gallons of water to survive is not a sustainable option, and you may end up with a garden resembling a graveyard. So, instead of choosing super-sensitive plants, you should fill your garden with plants that are drought-tolerant such as succulents. They are very interesting and extremely beautiful, and, moreover, they will help you reduce your time watering and the amount of water you spend. In addition, succulents are plants that spread very quickly and will create a carpet in no time. The succulents will shortly form a greenery carpet that will blow your mind.
When you are unsure of how or where to begin decorating your yard, it may be a very difficult task. Yet, if you follow the principle that was shown to you earlier, you will have a strategy at your disposal that will enable you to establish your own particular comfort zone. Make sure you take into account important factors like the local climate and the resilience of the plants.