Revamping Your Home: Innovative ideas for interior and exterior upgrades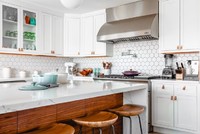 Are you tired of the same old look in your home? Or do you feel like it's time to increase the value of your property? Upgrading your home can breathe new life into your living space and improve its aesthetic appeal.
This article explores various innovative ideas for interior and exterior upgrades, covering everything from space optimization to energy efficiency. And remember, while taking on these projects, using warehouse trolleys can facilitate the transportation of heavy materials, making your renovation process easier and more efficient.
Interior Upgrades
Open Concept Living Spaces
An open concept living space not only makes your home look spacious but also improves the flow and functionality. You can achieve this by removing non-load-bearing walls and creating a seamless transition between the living room, dining area, and kitchen. This design encourages social interaction, enhances natural light, and allows for versatile furniture placement.
Modernize Your Kitchen
The kitchen is often considered the heart of the home, so investing in a modern and functional design is crucial. Consider updating your countertops, installing energy-efficient appliances, and adding more storage with custom cabinets. Don't forget to include an island or a breakfast bar for additional seating and work surfaces.
Upgrade Your Bathroom
A bathroom makeover can significantly improve the comfort and value of your home. Consider installing a walk-in shower, dual vanities, and heated floors. Additionally, upgrading fixtures, lighting, and tiles can create a spa-like ambiance, turning your bathroom into a relaxation haven.
Enhance Lighting
Lighting plays a significant role in the overall atmosphere of a room. Update your lighting fixtures and consider installing dimmer switches to create different moods. Incorporate floor lamps and table lamps to add a touch of style and functionality to your space.
Smart Home Integration
Technology has become an integral part of our daily lives. Upgrading your home with smart devices like thermostats, security systems, and lighting controls not only makes life easier but also saves energy and increases the value of your property.
Exterior Upgrades
Refresh Your Home's Façade
A fresh coat of paint can dramatically change the appearance of your home. Choose colors that complement your neighbourhood's style and your home's architecture. You can also add visual interest with siding materials like brick, stone, or wood.
Roof Tiling
The roof is an essential element of your home's curb appeal and protection from the elements. Opting for roof tiling can add a touch of elegance and offer increased durability. With various materials, colors, and patterns available, you can customize your roof to match the design of your home.
Landscape Design
A well-designed landscape can improve your home's visual appeal and create a welcoming atmosphere. Incorporate a mix of trees, shrubs, and flowers to add color and texture. Additionally, hardscape elements like pathways, patios, and retaining walls can enhance your outdoor living experience.
Outdoor Living Spaces
Extend your living space to the outdoors by creating comfortable and inviting areas for relaxation and entertainment. Consider adding a deck, patio, or pergola, complete with cozy seating and a fire pit. An outdoor kitchen is another popular feature that can elevate your outdoor experience.
Energy Efficiency
Improving your home's energy efficiency not only reduces your carbon footprint but also saves you money in the long run. Invest in energy-efficient windows and doors, insulation, and solar panels to lower your energy consumption and utility bills.
Conclusion
Revamping your home with these innovative ideas can transform your living space, improve its aesthetic appeal, and increase its value. Remember to plan and budget accordingly and consult with professionals when needed.