Nissan Primastar 2007 takes Best Medium Van Award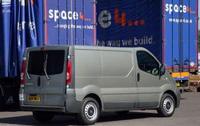 Nissan Primastar has won the award for Best Medium Van in the 2007 Van Fleet World Honours. The trophy was presented at a special ceremony held at the Royal Automobile Club, Pall Mall on Thursday 17 th May.
The Van Fleet World Honours are presented annually to those van manufacturers and service companies who have, in the opinion of the judges, achieved the highest possible level of excellence in their sector.
Commenting on the award, Van Fleet World Editor John Kendall said: 'The original vans may be almost six years old, but with the latest changes the design remains fresh and modern. There is a broad range of body styles offering volumes in the 5.0 to 7.1 cubic metre range as well as chassis-cab models. Payloads of 1,000kg and 1,200kg help to give a wide variety of choice for fleet users.
'Inside, there is great attention to drivers' needs in the cab. Stowage is plentiful, the driving position is still arguably more car-like than any of its rivals and the subtle changes have left the excellent dashboard largely unchanged, retaining the ergonomic layout and great modern design. It is also a good van to drive with quiet engines and a fine balance of ride and handling either empty, or loaded to full gross weight,' added Mr Kendall.
Since the changes last September the Primastar incorporates the latest range of Euro-IV engines which includes a new 2.0-litre common-rail diesel providing a useful power increase from its 1.9-litre predecessor with 90PS and 115PS. The revised 2.5-litre common-rail diesel now has 15PS more at 150PS.
From February 2007 a six seater Primastar Crew Van has been added to the range providing even more versatility with the additional rear seat arrangement.
Basic prices of the standard Primastar start from £13,775 (£16,410 OTR) and are available from most Nissan dealers but to find your nearest one visit nissan.co.uk.