Nissan confirms NP300 prices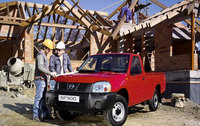 Following on from the announcement that Nissan's NP300 Pickup will make its UK debut at the Commercial Vehicle Show in Birmingham today, prices have now been confirmed. Basic prices will start at £11,395 for the 2WD Single Cab, rising to £14,795 for the 4WD Double Cab, which will go on sale in the summer.
The NP300 Single Cab accommodates three people and has the largest bed in the range, measuring 2.2m in length and 1.4m wide. It is the ideal tough, durable pick up traditionally used for hard working, self-employed sole traders typically working in remote locations, on construction sites, agriculture, or landscaping projects. The Single Cab will be offered with both two and four-wheel drive.
In King Cab configuration, the NP300 can accommodate two people, as well as offering secure storage space inside the cabin for tools and materials, while the Double Cab offers seating for up to five colleagues.
With a maximum payload of 1135kg, the NP300 has a powerful yet frugal Euro 4 compliant 2.5 litre direct injection diesel producing 133hp with 304Nm of torque for easy load shifting and towing.
As well as a large payload, the NP300 also has a towing capacity of up to 3000kg, allowing operators to carry all the materials and equipment they are likely to need, improving their working efficiency.
The engine is paired with a five speed gearbox, while its rugged independent front suspension and heavy duty rear leaf spring suspension ensure that NP300 can handle the most demanding loads and terrain. A limited slip differential is standard, giving added traction and stability in difficult conditions.
All versions are available with all-wheel drive, giving extra flexibility and reassurance to ensure that the toughest jobs are reached without difficulty. And to underline its suitability for the toughest working environments, the NP300 is fitted with a sump and fuel tank guard.
And its off-road credentials are clear, with a ground clearance of 230mm, an approach and departure angle of 31º, and a wading depth of 450mm. The powerful motor means that the NP300 has a maximum climbable gradient of 39º, and with a maximum lateral inclination of 48º, altogether, the NP300 has class-leading go-anywhere capability.
This strong, well-proven pick up can also be converted into different body styles, allowing specialists to tailor their vehicle to meet their exact needs. For example, the NP300 is ideal for conversion into a recovery vehicle, a tipper or emergency vehicle.
And while the NP300 is an authentic workhorse, life on board is civilised, thanks to the availability of air-conditioning, 2 DIN CD audio, tilt-adjustable steering, power windows, electric mirrors and keyless entry.
Other equipment on the NP300 includes anti-lock brakes, step-type rear bumper (King Cab only), front foglamps and immobiliser.
To ensure that the NP300 spends the minimum time off the job, service intervals are 18,000 miles and backed up by a 60,000 mile, three-year warranty (whichever comes first), while the body is protected by a six-year anti-corrosion warranty. Overall ownership costs are class leading, emphasising the NP300 as an ideal choice for hard-working operators who regularly work in the most challenging locations, on demanding projects.