Nissan starts LCV business in Russia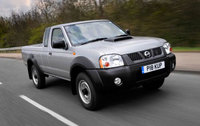 Nissan is announcing plans to enter the Russian light commercial vehicle (LCV) market in 2008. Nissan Motor Rus, will launch the NP300 pickup and the Cabstar light duty truck in September, this year. The range will be extended to six products by the end of 2011.
The vehicles will be sold through a network of specialised Nissan LCV centres, which will be constituted as part of the existing Nissan dealer network. This network will provide customers with a full range of professional services including special leasing and finance plans, corporate sales programmes, road assistance plans and a wide variety of body conversions.
"The start of Nissan LCV sales in Russia is a significant event for our company," said Andy Palmer, Corporate Vice President, Nissan Motor Co. Ltd, LCV Business Unit. "Entering new markets is a fundamental part of our global LCV growth plan and Russia represents significant volume potential. With an extended LCV range planned in the mid term and a network of dedicated professionals in our dealerships, we are confident that we will meet the needs of the Russian customer," added Palmer.
As part of its plan to further expand its operations globally, the Nissan LCV Business Unit announced on 7 April that it will sell light commercial vehicles in North America, starting in the first half of 2010. Last October, the LCV Business Unit announced a joint venture with Ashok Leyland of India and plans to start sales of Nissan LCVs in that market during 2010.
Globally, the company identified the LCV business as a key pillar for the growth of the company during the Nissan Value Up mid-term plan. Having achieved the plan commitments one year early and reached record sales of over 518,000 units in fiscal year 2007, Nissan announced plans to become a leading player in the global LCV market in 2010.
The strategy for the global growth of Nissan's LCV business includes the launch of new products, expansion of sales operations into new markets (Russia, USA and India being among the priority), a focus on quality as a key competitive strength, and the formation of strategic ventures to enhance efficiency.
Nissan Motor Company generated global net revenues of 10.468 trillion yen in 2006. Nissan is present in all major global auto markets selling a comprehensive range of cars, pickup trucks, SUVs and light commercial vehicles under the Nissan and Infiniti brands. Nissan employs 224,000 people worldwide.
Under the Nissan Value-Up business plan, the company continues to focus on long-term sustainable and profitable growth driven by three commitments:
To maintain top level of operating profit margin among global automakers
To achieve global sales of 4.2 million units in 2009
20% return on invested capital on average over the course of the plan