Global demand fuels Nissan shift away from badge engineering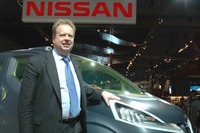 The next-generation of Nissan panel vans will be stand-alone Nissans, not rebadged Renault Trafics and Masters, and the launch of the Nissan NV200 compact van signals the first step in the Japanese brand's move away from badge-engineered vans.
Andy Palmer, Nissan's Corporate vice-president of marketing, LCV business unit, said Nissan planned "to make smarter use" of the Renault-Nissan alliance in future as far as vans are concerned. "We'll be introducing 13 all-new products in the next five years. We'll still be sharing engines, transmissions, platforms and market intelligence." But the emphasis has changed. In 1999, we needed product for Europe. But now we have around 600,000 sales worldwide. The emerging markets are now driving our product development."
Nissan is building LCV plants at a number of locations around the world, including India, China, Morocco and the US. This will drive Nissan's annual global LCV sales up to more than 1 million units in the next few years – twice the 2007 volume, and emerging markets will account for around 60 percent of that growth, Palmer said.
The Cabstar light truck will get a facelift in the new year, with an improved interior, the addition of a robotised manual gearbox and Euro 5-compliant diesel engines, with particulate filters. A dedicated conversion centre for specialist body options is being set up at the Madrid factory that builds the Cabstar.