TGB sharpens blade for the UK market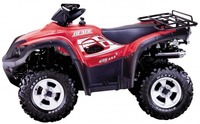 TGB has joined the battle for a slice of the growing quad-bike market with the latest addition to its UK range. The Blade 425 is a stylish quad designed for light work or leisure use and enters the market at an incredibly low £3,655 excluding VAT. This is for a fully specified quad, ready to ride, with a full manufacturer warranty and UK-based parts support.
The Blade may be new to the UK but the French market has already had a taste of the Blade and French media reports indicate that the Blade 425 is not just value for money but a real performer in its market sector.
The motor is a water cooled 403cc single cylinder giving a maximum output of 14.9Kw at 6,500 rpm and 22.5Nm of torque at 4,000 rpm. This drives a constantly variable transmission (CVT). The Blade 425 comes as standard with selectable 2 or 4 wheel drive with double wishbone suspension at the front and swing arm at the rear.
Body panels are self coloured and the Blade comes with a high end digital speedometer (not a stick-on plastic converter). The list of standard fittings ensures that the owner of a Blade 425 is ready to roll as soon as he has the Blade registered. There are no "extras" required to make the quad road legal, and it comes with street legal off road tyres as standard, so you can ride on road or track from day one.
What makes the TGB Blade 425 different from many of its competitors is the comprehensive dealer network available for TGB products; over 200 dealers nationwide and more being added to ensure that service is never a problem either at home, or away. To make things even sweeter, in the unlikely event of a warranty failure a full range of parts are available to the dealer for next day delivery at prices that mirror the ticket on the Blade 425.
Trevor Barnett, MD at Astro General Corp, the UK importer and distributor of the Blade 425 and the growing range of TGB scooters from Taiwan says, "TGB offers quality at a price the customer can truly afford. We back that up with a comprehensive parts and technical support package to the dealers that is priced to keep the TGB's on the road. I don't believe in selling a budget priced Scooter or Quad and then charging top dollar for the parts. If someone puts their faith in TGB by buying the product I will ensure that they are never let down by poor service or expensive parts bills."