TGB Delivery Scooters a real transport alternative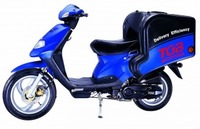 The price of motoring is soaring fast and there is no end in sight. Using data from the RAC and calculating the direct running costs over 6000 miles, even a seven or eight year old 1200cc cc hatchback will easily relieve you of nearly £1,300 in fuel, repairs, tax breakdown cover each year. While Britain's motorists are not alone in facing fuel and servicing cost inflation, elsewhere in the world there seems to be a greater readiness to accept solutions such as electric power or microcars as acceptable personal transport alternatives. Even In the USA the market is a-changing and compact neighbourbood vehicles are appearing in small but significant numbers in urban settings.
Yet according to the Department for Transport's most recent National Travel Survey, our love affair with the traditional four or five seat four-wheeler shows no sign of waning: though nearly four-fifths of all trips of less than one mile are carried out on foot, the car still remains the most common mode of transport for all trips over a mile. More worryingly, nearly a quarter of all these trips are of less than two miles in length.
However, for those with an eye on the budget who still need personal transport TGB Scooters offers a practical solution whether you live in the city or the countryside.
The TGB Delivery Scooter is an ideal personal transport solution for the individual or the stay at home parent who needs to be able to get to the shops and back in a hurry.
Synonymous up to now with fast-food to your door, the TGB Delivery Scooter easily doubles as a two-wheeled supermarket trolley with sufficient load space for a reasonable weekly grocery haul. So instead of that stressful crawl through traffic in a conventional family car, with a TGB Delivery Scooter you can nip through the jams and park close to your favourite speciality store, usually free of charge.
Fuel consumption is lower than a typical economy hatchback, tax is even less and so is insurance, depending upon an person's own record. Weigh in a retail sticker price that is well under the depreciation suffered by the average small car, winters that are growing milder with less of a risk of snow or ice, and the TGB Delivery Scooter fast becomes a viable year-round personal transport alternative for the practical-minded individual.