Bailey pioneers Tracker's move into caravan sector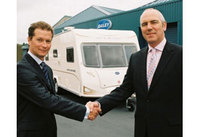 TRACKER, the UK's leading stolen vehicle recovery (SVR) system operator, today announced it has developed a system developed specifically for caravans.
Bailey Caravans, the UK's largest caravan manufacturer, is fitting the TRACKER security system as standard to its flagship Senator Series Six range.
The caravan system works in the same way as the TRACKER Monitor system, which features a motion sensor that recognises if the vehicle is being tampered with. Once activated and the theft confirmed, the system emits a silent VHF signal detectable by patrolling police. TRACKER is the only SVR company with a direct working relationship with all 52 police forces in the UK.
TRACKER Caravan also has the added proviso of a greater power supply to guarantee cover during long periods of inactivity, for example when a caravan is not being used or placed into storage.
Simon Howard, Bailey Caravans' Marketing Director, said: "Unfortunately, caravan theft is on the increase and while we offer various security features on the caravans we build, TRACKER offers a great deal of comfort for our customers in the event of their vehicle being stolen."
TRACKER will provide Bailey Caravans with TRACKER Caravan Monitor units for their new Senator Series Six range, the current version of which accounts for one third of the company's annual sales.
Richard Pearse, European Manufacturer Manager for TRACKER, said: "We have recovered almost £350 million worth of stolen vehicles since 1993 and while we have supplied units to caravan owners in the past, it's only now that we're able to offer a tailored system thanks to the development of the extra power supply needed to cover long periods of inactivity."