Ricardo delivers Extreme HybridTM demonstrator vehicle in record time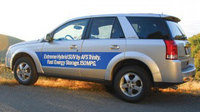 Visitors to the North American International Auto Show were given the opportunity to see the XH-150™, the first vehicle to feature AFS Trinity Power Corporation's Extreme HybridTM technology. The advanced demonstrator vehicle unveiled is one of two developed by AFS Trinity and built by Ricardo under contract that were ready for testing in just five months.
Plug-in hybrids offer the prospect of dramatically extending the all-electric vehicle (EV) mode of hybrid vehicles through the use of high capacity energy storage systems which can be recharged using grid electricity (typically overnight using discounted off-peak power). AFS Trinity Power's patent-pending Extreme HybridTM technology employs a proprietary dual energy storage system that combines Lithium-Ion batteries and ultra capacitors with proprietary XH™ power and control electronics with the aim of satisfying performance expectations of consumers and providing extended vehicle range in a highly energy-efficient and cost-effective package.
In mid July 2007, AFS Trinity Power asked Ricardo to help integrate the Extreme HybridTM system into two identical XH-150™ demonstrators using two 2007 Saturn Vue Greenline SUVs as host vehicles. Ricardo responsibilities included integrating AFS Trinity's proprietary power and control electronics module into the vehicles, incorporating off the shelf ultracapacitors and batteries selected by AFS Trinity, design and development of a completely new Ricardo transmission for the vehicles, modifying the host vehicles' suspension and chassis control and, finally, vehicle build.
The results of road tests carried out by AFS Trinity in December 2007 at Michelin's Laurens Proving Grounds in South Carolina are highly impressive. In simulated urban/highway conditions the XH-150™ achieved an all-electric range of 41.9 miles and a top speed of 87 MPH. In acceleration tests the company reports an all-electric zero to 60 MPH time of 11.6 seconds. The most interesting 0-60 acceleration time, however, was that for the XH-150™ in full hybrid mode, which was a stunning 6.9 seconds.
Ricardo CEO, Dave Shemmans said: "The need to improve vehicle fuel economy is of paramount importance to automakers, governments and consumers in all parts of the world. Plug-in hybrids offer an attractive solution in the urban environment and are likely to play a significant role in the future. We are proud to have been asked by AFS Trinity to assist in producing the first demonstrator based on AFS Trinity's Extreme HybridTM technology and to have delivered the vehicle ready for testing in only five months. The latest in a long line of hybrid programmes delivered successfully for our clients, this project further demonstrates Ricardo's position as a leader in this field and underscores the company's impressive vehicle integration capabilities."
Looking to the future, AFS Trinity CEO Ed Furia said, "Our primary goal now that we have succeeded in developing, demonstrating and testing the XH-150™ is to license our XH™ system to automakers around the world who would like to have this exciting fuel-efficient drive train in their vehicles, and who better to help integrate the Extreme Hybrid™ technology into the vehicles of the world's automakers than Ricardo."