China's BYD offers battery breakthrough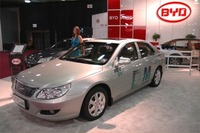 Of the five Chinese companies on show at Detroit, perhaps the most significant is BYD, which is promising breakthrough electric vehicle technology through its self-developed ferrous batteries.
BYD has only been an automaker since 2003, when it acquired a small car company called Qingchuan Motor. The company's core business is producing batteries for mobile phones – it supplies companies including Nokia and Motorola. Since then it has developed its auto business, selling more than 100,000 cars in China in 2007, and the company sees major synergy between its batteries and its cars.
BYD showed four models at Detroit, including the F6 large sedan with BYD's DM (dual mode) electric hybrid system, a technology that the company claims will revolutionise alternative powertrain systems. "We believe DM technology will replace current hybrid technology," said BYD vice-president Micheal Austin. "It will change the world as we know it today."
The F6DM has a range of around 60 miles in electric mode and a further 190 miles when using the gasoline engine as a generator to charge the battery pack. And the ferrous batteries have a rapid charge facility - BYD said they can be recharged to 50% of capacity in just 10 minutes, though a full recharge takes 9 hours.
The F6DM will go on sale in China later this year, with a $6,000 price premium over the standard F6. The cars won't go on sale in the US until 2010 at the earliest. Austin believes the greatest potential exists with the DM and battery technology. He would like to offer it to a partner, but said none of the US Big Three had expressed an interest.
BYD is planning to attend the Geneva Show in March, and will show new Europe-oriented models. It's also likely to show the F8 coupe-cabriolet and the F3R hatchback, both of which are on sale in China.