Clothes swapping event hits the road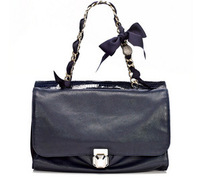 Bigwardrobe.com, the clothes swapping website, is hosting The BIG Swish, a UK clothes swapping roadshow that will take the benefits of swishing to every corner of the UK, demonstrating that people don't have to spend a penny to be 100% on-trend.
Swishing is a growing trend, where fashion-loving women get together, feast on nibbles, guzzle wine and swap their clothes. Basically, it's ultra fashionable recycling.
The BIG Swish will be one of the largest events to happen in the clothes swapping calendar and will be the highlight of National Clothes Swapping Week, which coincides with London Fashion Week from 18th to 22nd September. The roadshow will lead a team of designers, stylists and models around the country over 12 months.
The BIG Swish starts on 17th September in Leeds. "This will be the biggest clothes swapping party ever hosted in the UK," said Jamie Hutchinson, co-founder of Bigwardrobe.com. "Over 1,000 guests have already registered for the event and we're also expecting celebrities from the cast of Hollyoaks."
The BIG Swish then visits some of the UK's biggest cities, including Birmingham, Bristol, Cardiff, Edinburgh, Glasgow, Liverpool, London,Manchester, Newcastle and Sheffield. In total, more than 10,000 women are expected to swap over 25,000 pre-loved items of clothing, plus bags, shoes and accessories.
"There will be free haircuts and makeovers by TIGI; complimentary massages by Dermalogica; butlers 'in the buff' serving canapés and cocktails, female DJ's and market stalls selling mainly eco-friendly products including jewellery and cosmetics," continued Jamie Hutchinson.
"And, all ticket holders will have the chance to win a range of prizes, including a dress donated by Jodie Kidd, a signed pair of skinny jeans worn by Russell Brand, this stunning 'Twin' bag by Lanvin and a magnum of Moët et Chandon champagne!"
DaisyGreenMagazine.co.uk, experts at managing green events, is helping to organise The BIG Swish. "Our forte is clothes swapping parties, which attract women of all ages who love fashion, girl's nights out, and helping to reduce clothing waste in the environment. The Big Swish is a fabulous concept and we're delighted to be working with Bigwardrobe.com," commented M.D. Nicola Alexander.
Lucy Shea, founder of Swishing and Director of Futerra Sustainability Communications, which is promoting The BIG Swish said, "Chances are that as a woman, your wardrobe is one of your biggest environmental impacts. The Big Swish provides an excuse to party with friends and get new clothes, while going easy on the pocket and the planet. It's the perfect guilt-free fashion fix."
All clothes, shoes and accessories left over after each event will be donated to Cancer Research UK to help them beat cancer.
For more information and to buy tickets online go to Bigwardrobe.com/TheBigSwish.