Fashion Fête takes over Covent Garden Piazza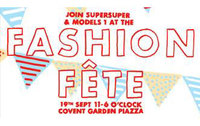 As the buzz of London Fashion Week takes over the city, Saturday 19th September (11am-6pm) will see Covent Garden host its first ever Fashion Fête, in conjunction with Models 1 and SuperSuper magazine.
From hook-a-duck to the Tug-o-War with clothes from TRAID, Covent Garden's Fashion Fête will see traditional British fête activities with a fashion twist. Style savvy devotees can target fashion criminals such as Jodi Marsh and Katie Price at the plate-smashing stall, Anna Wintour fans can emulate their fashion goddess by donning the wig and sun-glasses and entering the Vogue-inspired photo booth, and - calling all Paris Hiltons and Cheryl Coles – there will be a "dogwalk" with 'Love My Dog' for all those fashionable pups to strut their stuff!
Not only this, Europe's leading model agency, Models 1, is calling all would-be models to join them at Fashion Fete, as they will be scouting for the next top model to join their books.
Fashion-esque fête fun will include:
SuperSuper your style
Exclusive styling by SuperSuper magazine and the chance to have your picture featured on the website or in the magazine.
Anna Wintour Fan Booth
A homage to Anna Wintour 's return to London Fashion Week for the first time in three years – visitors will don the famous wig and glasses and have their picture taken in the booth.
Designer "dog-walk" with Love My Dog
Stylish pups from far-and-wide will be invited to compete in a doggy fashion contest. There will be four categories: 'Best Outfit', 'Best Walk', 'Best Groomed' and 'Best In Show'.
Hunter Welly Wanging
See how far you can wang your wellies, only Hunter will do.
TRAID Tug-o-War
A live fashion Tug-o-War made from pre-loved clothing courtesy of charity TRAID.
Celebrity fashion faux-pas plate smashing
Shatter those criminals of the fashion faux-pas into a thousand pieces.
Fashion Face Painting with New id
Free catwalk fashion makeovers in the style of Bat for Lashes and Ladyhawke with New id cosmetics.
Fashion & Textile Museum
A showcase of the work of up-and-coming young designers from the Fashion & Textile Museum's shop @FTM, alongside a stall selling the latest designs and a competition to win tickets to see their new exhibition 'Foale and Tuffin: Made in England' which launches on 23rd October 2009 .
Tea, Cakes and Tiaras (sort of) with Vintage Patisserie
Enjoy a delicious cup of tea from Vintage Patisserie in beautiful vintage crockery which you can take away - or get yourself a stunning hand-made 1920's head band from the stall.
Dress-up Boxes
Vintage and fancy dress-up boxes supplied by Rokit and hip expert costumiers Costume Boutique for your chance to dress the part.
Smash the Rat with I Knit
Smash the rat and learn how to knit with hip London knitting crew I Knit.
Celebrity Cupcake Competition
Cupcakes are the latest fashion accessory, so join in the fun and get cupcake decorating. Judging panel includes Cup Cate and celebrity baker (to be revealed).
Bingo with a Fashion Twist
Rebel Bingo will be calling the shots with our fashionable bingo/tombola game
Not only this, there will be a coconut shy, fashion bobbing, hook-a-duck, models in the stocks, nail painting, funky stalls where you can buy everything from cool prints at General Pattern to doggy couture. lots of prizes to be won, and much, much more.
Running alongside Fashion Fete, from Thursday 17th – Tuesday 22nd September, there will be generous in-store discounts and gifts with purchase from some of Covent Garden's most fashionable retailers including Hackett, FullCircle, Karen Millen, Warehouse, Simon Carter, LK Bennett, French Connection and Original Penguin, along with an opportunity to win thousands of pounds worth of designer goodies.
Bev Churchill of Covent Garden London comments, "September in London is all about fashion and we couldn't let that pass at Covent Garden without a celebration, especially as London Fashion Week is now just down the road. We are really excited to be working with some fantastic partners from SuperSuper, Zandra Rhodes' Fashion and Textile Museum and Models 1, who will help make Fashion Fête a fun fashion experience that everyone can enjoy and get involved in."
For full details of all events, visit coventgardenlondonuk.com.
Fashion Fête times: Saturday 19th September from 11am – 6pm, East Piazza