Emma Bunton Goes Downtown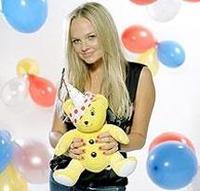 Emma Bunton has recorded the official BBC Children In Need single. Emma will release her own version of the sixties classic, 'Downtown', on November 20th (available to download from 13th November) and is set to perform the single on the live BBC1 show on November 17th. This is Emma's first single release since 2004 when she enjoyed three top 10 hits from her gold album 'Free Me'.
Teaming up with two of her favourite directors, Harvey & Carolyn, the video is set to be a true fanfair. Catch Emma through the key hole of a five star 1960's boutique hotel where she plays the role of a unassuming glamorous, hotel maid looking after the good and the great hotel guests who check in as she goes about her work.
Prior to committing to the recent hours of dance rehearsals for Strictly Come Dancing, Emma spent much of her time co-writing and working on material for the new album, 'Life In Mono', set for release on 4th December. The album will feature 11 tracks recorded over the last 12 months with songwriters Cathy Dennis, Yak Bondy and Jamie Hartmen, to name a few. The single and album will be released through 19 Recordings/Universal.
Emma first burst into the charts 10 years ago as one fifth of the Spice Girls, who went on to be the most important and biggest girl group of the 90's. The youngest of the girls, Emma was dubbed 'Baby Spice' and travelled the world as they invaded the charts in country after country. Emma's first solo album gave her a number one single and she went on to enjoy countless hits over the next few years.
Emma says: 'I am delighted to be asked to do this on behalf of Children In Need. I've always loved 'Downtown' as a song and I've enjoyed putting my own stamp on it. The video was great fun and all the guys in Strictly Come Dancing are in it. It was lovely that everyone really pulled together to make it happen so quickly, I was really pleased.'